The COVID-19 has resulted in schools shut all across the world. Globally, over 1.2 billion children are out of the classroom. As a result, education has changed dramatically, with the distinctive rise of e-learning, whereby teaching is undertaken remotely and on digital platforms.
And by using the digital platform during the lockdown period Mr. Sanjeev Kumar of Bharatnagar, Bathinda decided to teach the students from all over the country free of cost. Mr. Sanjeev started the online classes from March 28, 2020 and still he is imparting the knowledge to the students worldwide without fail.
With over 18 years of academic experience under his belt, 42-year-old Sanjeev, a teacher at Kendriya Vidyalaya No. 1 in Bathinda Cantonment has devoted the past one year in imparting education to students of classes VIII to XII, and over 2,500 pupils preparing for NTSE scholarship entrance. His online lectures have also pulled in people from the UAE and Malaysia.
Mr. Sanjeev said, "I always thought of doing something which could bring about a change in people's lives. When the lockdown happened, I had ample time left to myself, which is when I decided to teach students online. The response I have got so far has been staggering."
The online classes have been totally enriching and gainful. The concepts are explained in detail and all doubts are cleared, said one of the students of Mr Kumar. The students enjoy attending the classes and look forward to new learning experiences in each class.
"I am very well connected to my roots. My needs have always been minimal. So, when many people try to offer me money, I politely turn it down. I will consider myself truly successful if I am able to inspire a few more teachers to follow the suit," added Kumar.
Mr Sanjeev Kumar also invites noted educationists from premier academic institutions to deliver lectures in his live sessions. He had spent lakhs of rupees to raise the advanced technological infrastructure. He had ensured that he should have the fastest internet connection as he sees the students from far flung areas often get logged out during classes because of the connectivity issues.
To ensure that the students should not miss any of the class due to internet issues he makes the notes of each class which he circulates to the students who attend the class in PDF.
One of his students, Tanveer's mother Davinder Kaur said: "We have access to 2G network connection, but that has not been an hindrance. My ward's mentor has an advanced technology infrastructure. Therefore, she doesn't face any problem. In times like this when we can't move out of our houses, he is imparting knowledge to so many students pro bono. He is doing 'sewa' in the truest sense of the word."
"If you are determined to teach no one can stop you and I had the determination to teach the students during lockdown period so that no students can be devoid of education", said Mr Sanjeev Kumar.
To begin with he started the online classes using the free Zoom account, but that would give him only forty minutes of class time. He then decided to upgrade the account and spend USD 70 each month on the upgraded account.
He is teaching the students from all over the country and abroad. The students are being benefitted from his classes and sending him the videos and the written compliments to him.
One of his students Suraj Prasad said, "Sir is teaching us since 1 April. He never demanded any kind of fee from us and way in which he is teaching us is one of the best ways. I don't think that there is any paid platform will be better from this. I am feeling so proud to be the student of Sanjeev Kumar Sir.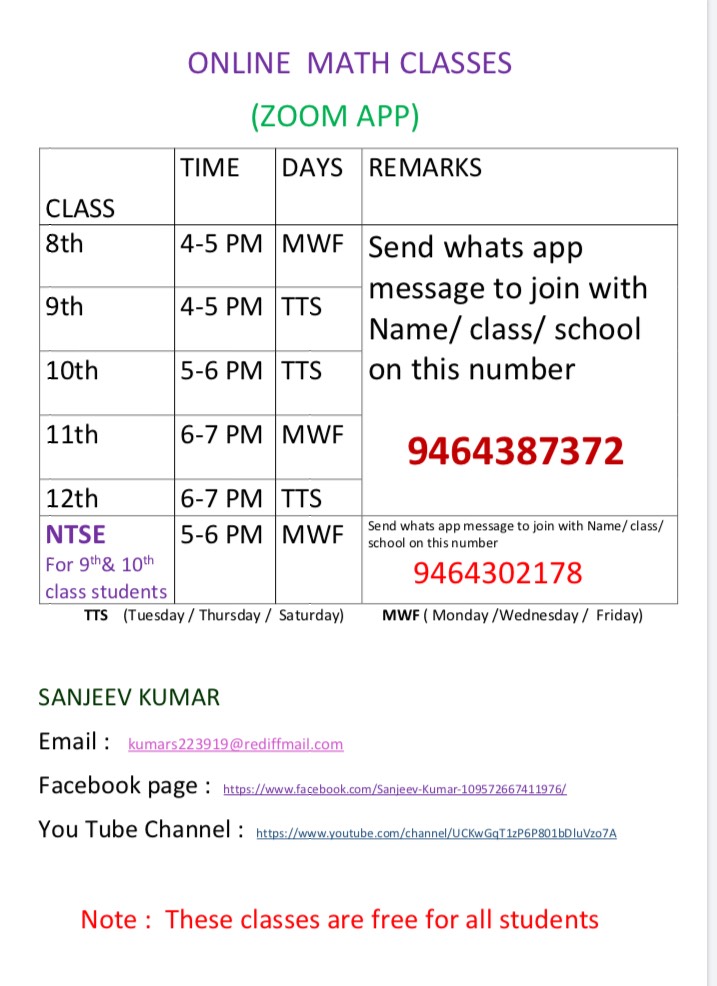 Mr. Sanjeev told us that he teaching the students Maths from class VIII to XII. He is teaching them in three sessions. He is taking the class of the students of class VIII and IX from 4.oo pm to 5.00 pm, Class X from 5.00 pm to 6.00 pm and of class XI to XII from 6.00 pm to 7.00 pm. He is also taking the batches of NTSE of class IX and X from 5.00 pm to 6.00 pm.
He believes that the more you share the knowledge, the more it will be benefitted for the students and society. To accomplish this aim he started free online education to the students during lock down period and still it continues.
Related: Top 10 Bestselling authors of 2019/20 – ICFAI Business School Professor at Top of the List