A new app in the UPI payment genre has been launched by Bengaluru startup called "KhaaliJeb or "empty pockets" is available on Android for free download from Google Play.  The banking partner for KhaaliJeb app is Kotak Mahindra Bank and it has been approved by NPCI like any other UPI app of the country. As of now it is similar to any other vanilla payment app that can be used to send and receive payments and is targeted mainly at students. To differentiate the Khaalijeb app from the crowd of payment apps in the country the firm has decided to add to unique features. 
The khaalijeb app will have a loyalty program for students which will help them get discounts from stores that they frequent and another feature will allow them to track their expenses and settle large bills by splitting it into smaller payments according to their convenience. These features are listed on the app's website and its founder claimed that these features will be rolled out soon so until these features are actually available there is nothing much to distinguish Khaalijeb app from other like RuPay, PhonePe, PayTM, GooglePay and others.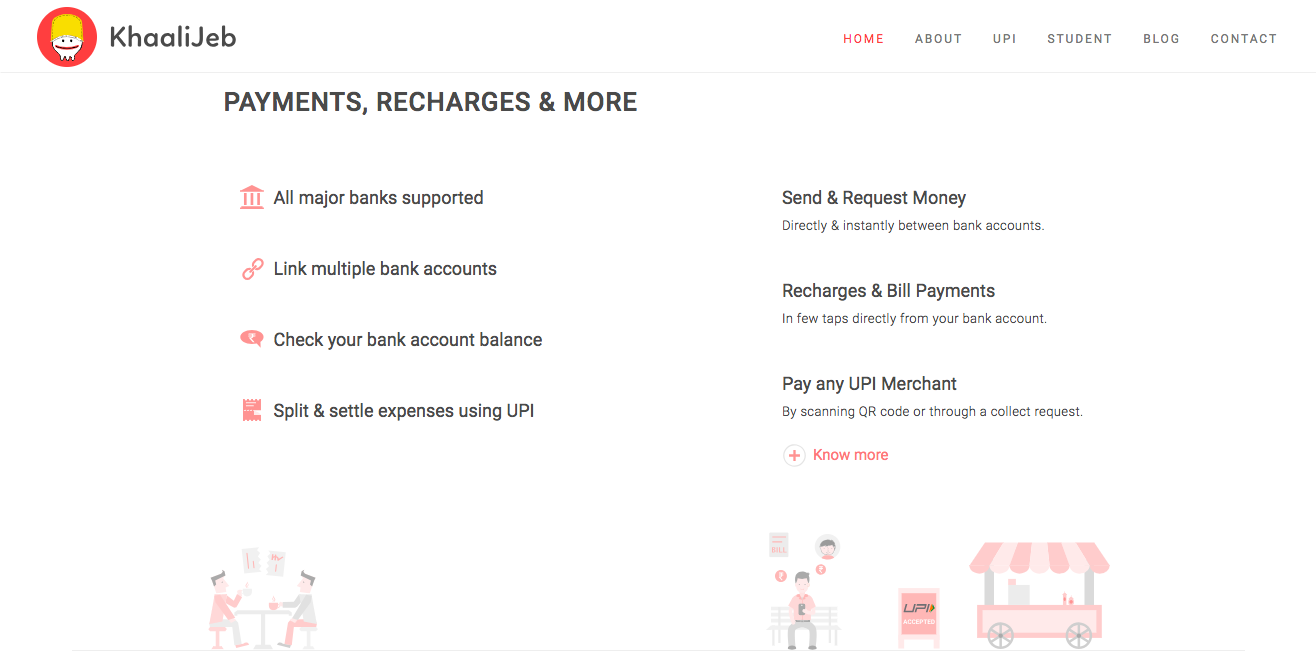 One of the app's founders Prakash Kumar stated that these form of payments in India is still in infant stage in India as though the market is humongous the knowledge base of people is diverse across demographics and states. The app's real competition with others will be on parameters like payments experience and product usability. As it has a small team it will not compete with the big and established names and will instead work on creating a world-class user experience for its user group which is students. But its journey to establish itself and start business has been an uphill task as the market is crowded and it took them nearly eight months to find its banking partner. 
The firm's founders said that they were not able to find a banking partner as is mandated by government regulations as some of them had expensive pricing structures and others could not provide the integration which was envisioned by them. They are aware that it is difficult for people to share sensitive information regarding financials with unknown service providers due to previous instances of information thefts by operators. They took this opportunity to declare that no private and sensitive information of customers are stored on its servers as all transactions are routed through Kotak Mahindra Bank which has a secure UPI platform. 



One of its founders Wilson Birua told that it is not easy to launch UPI app in India as it has to find banking partners and also receive necessary approvals from NPCI which has strict guidelines. It is also subject to independent audit evaluations from security firm of banking partner too. The KhaaliJeb app is targeting 100,000 downloads within six months followed by 500,000 downloads within a year. Though the firm's target is ambitious it is hoping that word of mouth publicity will be sufficient to grow the reach of their app until they can raise funds to advertise aggressively.
Related: New Rules for Health and Mediclaim Insurance- IRDA Guidelines.