In Mumbai, Andheri East attracts many residents due to its proximity to major commercial and business centers, transportation options, and amenities such as shopping centres and schools. Moreover, the area has seen significant development in recent years, with many new residential and commercial projects being built, making it an attractive option for those looking to buy flats in Andheri East.
Located on the western side of Mumbai, this area has evolved into an ever-growing social and industrial hub. Built on a community with endless services and connectivity for residents, Andheri East is a prime location for those looking to invest in property. In the last decade, real estate developers have strived to carve out a modern, well-connected, and upscaled neighbourhood in this space, which is why there is an abundance of options in flats in Andheri East for prospective homeowners to choose from.
If you are looking to buy flats in Andheri East, you can consider Mahindra Vicino by Mahindra Lifespaces. This article will focus on all the amenities offered by them.
Mahindra Vicino Flats, Andheri East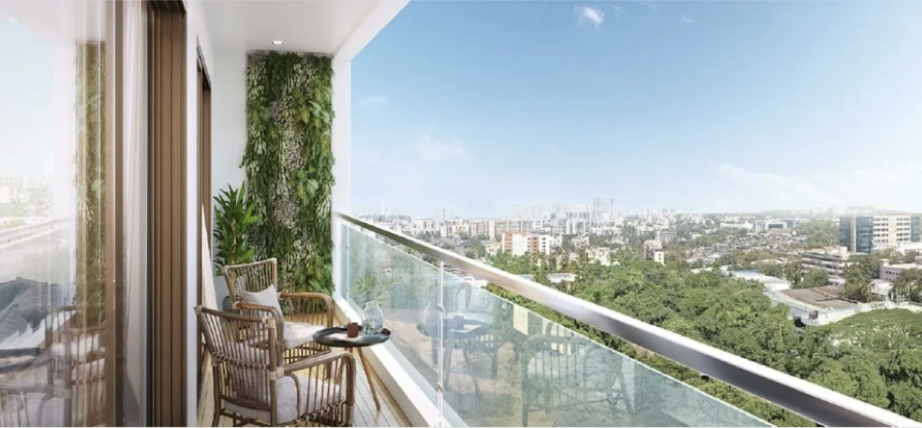 When you plan to buy residential flats for yourself, it is essential to do all the research work, such as the location of the apartment, connectivity to your workplace, how far the market is, all the comforts and conveniences for your family, and so on.
Mahindra Lifespaces has taken care of all of these aspects by launching a residential tower called Mahindra Vicino in Andheri East Mumbai, which is at the epicentre of connectivity. If you are looking for the best place in Mumbai to buy property, it would be a good idea to go for Mahindra Vicino in Andheri East. These luxury residences are close to everything you love, including multiplexes, restaurants, malls, entertainment, and many more.
Amenities Offered by Mahindra Vicino
The amenities provided include:
Clubhouse
Swimming Pool
Gym
Yoga
Kid's Play Area
Vehicle Parking
Power Backup
Open Garden
Gated Community
Security System
Mahindra Vicino offers all the premium amenities you can imagine. The 2 BHK flats in Andheri East are built with plenty of space and have a modern design. This apartment is surrounded by all of the necessary amenities. The stunning view of the Sahyadri Mountains all around the Vicino property elevates and distinguishes it.
Mahindra Lifespaces guarantee to provide you with a high-quality living experience in the community of Andheri East, Mumbai. At Mahindra Vicino, Mahindra Lifespaces is helping craft an unrushed life that includes great connectivity, spacious homes, and a healthy lifestyle.
Great Connectivity
Here are some of the connectivity advantages of buying flats in Mahindra Vicino.
Metros & Airports
W.E.H. Metro Station 350 MTRS.
Andheri Station 1.5 KMS.
W.E.H. 450 MTRS.
SEEPZ 3 KMS.
Powai 6.9 KMS.
MIDC 1.7 KMS.
Domestic Airport 3.5 KMS.
International Airport (T2) 3.7 KMS.
Business
Solitaire Corporate Park 1.2 KMS.
TCS Banyan Park 100 MTRS.
Technopolis Knowledge Park 1.3 KMS.
Leela Business Park 2.2 KMS.
P&G 850 MTRS.
Bisleri International Private Limited 1.6 KMS.
HUL 850 MTRS.
Education
Bombay Cambridge School 2.2 KMS.
Dominic Savio High School 2.4 KMS.
Holy Family High School 1.1 KMS.
Healthcare
Seven Hills Hospital 4.0 KMS.
Holy Spirit Hospital 2.5 KMS.
Lifestyle
The Lalit 3 KMS.
Hyatt Regency 3.3 KMS.
Courtyard Marriott 1.2 KMS.
ITC Maratha 3.1 KMS.
Entertainment
PVR 350 MTRS.
Carnival Cinema 1.8 KMS.
Make the Right Choice!
Mahindra Vicino flats in Andheri east are the epitome of modern convenience, nestled in one of the most thriving neighbourhoods in Western Mumbai. These homes are sheltered by nature but well-connected to the rest of the city because of the Western Express Highway. These flats in Andheri east by Mahindra Vicino are the best way to enjoy yourself, and slow down the moment you look outside your window.
Hence, if you are looking for flats in Andheri east that you can call a home, you should turn to trusted real estate properties like Mahindra Vicino for premium and well-connected homes in a city that never sleeps. Mahindra Lifespaces believes in sustainable urbanisation to make our future green and healthy. When you choose Vicino, you also opt for a greener and brighter tomorrow.
Get in touch with Mahindra Lifespaces today!
Read Also: