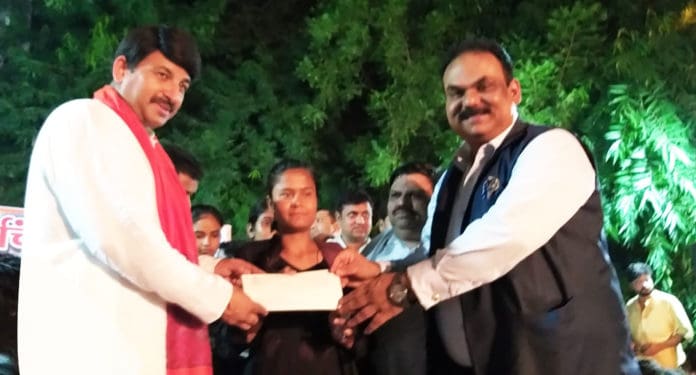 New Delhi:  Encouraging and motivating students from the lower socio-economic background to pursue higher education, Success Guru AK Mishra, director of Chanakya IAS academy awarded 25 students of Delhi University with scholarship.
In the recently held exam at DU, the top 25 students selected by DUSU (Delhi University Students Union) received scholarships to pursue their dream careers.
Purvanchal pandan, an initiative associated with DUSU help the students of the purvanchal region (Bihar, Uttar Pradesh, Madhya Pradesh, and Chhattisgarh) to work and prosper together.


The felicitation ceremony was organized by ABVP with Guest of Honour Success Guru, AK Mishra, Founder & Managing Director, Chanakya IAS Academy, in the gracious presence of Delhi BJP State President Manoj Tiwari and DUSU president Shakti Singh.
"Financial constraints are one of the basic essentials that most of the aspirants lag in pertaining to their dream career. Chanakya IAS academy feels proud in presenting the scholarships for such hidden talent in the country who may prove wonders in the future with proper assistance and guidance.


This step will not help in the growth of the students but will also be an aid in achieving their future goals as well. Uplifting the deserving students will significantly contribute to the nation's progress." Said Success Guru Mr. AK Mishra, Founder and Managing Director, Chanakya IAS Academy
Apart from training students for Civil Services Examinations, Chanakya IAS Academy has always focused on the overall development of talented students. The academy has always taken important steps in making innovative developments for the better future of the students.


The academy has always worked towards the social development to showcase the actual talent hidden in the country. Their recent agreements to boost chances of employability for the tribal youngsters and enhancing chances of jobs in the vocation centers prove them to be a socially responsible Authority.
Related: MoU signed between Chanakya IAS Academy and Tribal Research & Training Institute