World population is growing at an alarming rate and is slated to touch 7678174000 despite several efforts to control the population increase globally. The current population is likely to grow to 8.6 billion in another 12 years. Further, projections suggest that the world population with roughly 83million population added every year, the population will likely reach 9.8 billion by 2050. The population continues to grow even when the fertility rates are shrinking.
The population growth and studies are essential to developing key sustainable goals.
Numero Uno
For years, China ranked no#1 as the most populous country. Even today, it ranks first with a population of 1.4 billion. It is followed closely by India, whose population stands at 1.3 billion.
What is alarming is the fact that within the next 5 years, India will topple China to assume no#1 title of being the most populous nation. Currently, China's population is about 19% of the world population, whereas the Indian population is 18% of the global population.
Nigeria which currently ranks 7th will surpass United States population before 2050 to become the 3rd most populous country. Thus, few countries house most world population. It is understood that 50% of the global population will come from 9 nations, namely India, Nigeria, Congo, Tanzania, Pakistan, Ethiopia, US, Indonesia, and Uganda.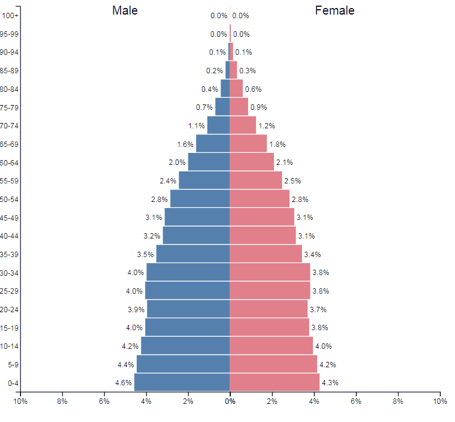 High population growth rate in the least developed nations
A study conducted during 2010-2015 revealed that 47 least developed nations had a high fertility rate, averaging at 4.3 births a woman. These nations show an annual growth rate of 2.4%. Though this rate is expected to go down greatly in the coming years, it will still touch 1.9bn by 2050.
Also, African countries have shown very high growth rates. The population of 26 African nations will likely double by 2050. What makes the population growth challenging is the fact that the poorest countries show a high growth rate. Given that the world is currently struggling to end poverty and hunger and wants to offer better health care, education, end gender-based inequality and offer better opportunities for all, population growth can hinder the progress.
Fertility Rate
It has been observed that the fertility rates have gone down globally except for Europe. Africa which had the highest fertility rate of 5.1 births on an average per woman, declined to 4.7 births from 2010 to 2015.
However, Europe has seen an increase in births from 1.4 per woman to 1.6 from 2010 to 2015.
As per the projections, Nigeria has the highest fertility rate for adolescent women in the age group of 15 to 19 years. Nigeria has a fertility rate of 201. 16 births per 1000 women, followed by Mali with 173.74 births and Angola with 161.93 births. Switzerland has the lowest birth rate of 0.52 births per 1000 women in the age group of 15 to 19 years.
Age Dependency ratio
in world population
Age dependency ratio refers to the percentage of dependents on the working population. The age dependency ratio is an indicator as to how much burden the working class has to bear. The age dependency ratio is highest for Nigeria, where it is 112.97%, followed by Uganda at 102.35%. Chad is close behind with 100.69%. UAE enjoys the lowest age dependency ratio with 17.75% and Qatar with 20.05%.
From the above statistics, it is clear that lack of education and resources in the least developed nations are the contribution to not just population increase, but also burdening its own citizens with more dependents on the working class.
Related: Increasing incidence of food allergies around the globe.