For centuries, Indian artisans are job workers for others. Their artwork is used by top designers in the country and around the world without any due credit. The payments are negligible, even though they are the main stars of many haute couture collections. Traveling across India, It's been witnessed as a fading trade.
From 2012 UTHHAN team met many artisans, who made beautiful products but couldn't even make money for their living. As a result, the younger generations in the villages weren't interested in continuing the handicraft practice leading to the disappearance of art.


"We realized that there are lots of opportunities and skills which can be used to help these people and this industry "as told by Uthhan Team
We traveled to rural India to understand the traditional art of the region and then help the artisans to make products that will appeal to the handicraft market. Handicrafts are often perceived to be expensive. Since it is not a necessity, it is subject to many layers of decision making" as told by Leemon Ravi (Founder, UTHHAN).
While e-commerce today is dominated by personal products and gadgets, the biggest challenge for UTHHAN was to make craft buying an equally attractive proposition. It will enable the artisans to reach new markets, and provide them with repeat orders thereby make craft making a lucrative work option. There is a huge gap in the market for artisans to fill. So this initiative could save a dying art and cater to a global audience at the same time they chose to support artisans' community as it is the third-largest population in India. 
UTHHAN- Empowering artisans is the first initiative in India where profit from artifact sales goes directly to the artisan families without any middlemen.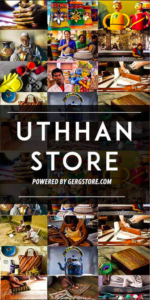 UTHHAN follows an eCommerce-based model, where it displays the products from artisans directly. The price is decided by artisans itself. This model was the choice because each piece is unique and hence more difficult to replicate (as compared to machine-made products). Also, being handcrafted, these products require minimum lead time for production reducing the cost of end-user as well.
"We are targeting village level artisans too, not just the ones with access to traders and exporters. The sense of responsibility is huge for us when a small artisan in a remote village – whether in West Bengal or in Tamil Nadu – connects with us looking for help or for orders. That becomes the motivation," as told by Chytra Rai (Branding and Awareness head – Uthhan )
Vision: Upliftment of Indian Artisan community by showcasing and selling their products worldwide, eliminating the role of middlemen.
Mission: Setting up physical outlets and online stores for selling artisan products without any hassles. Creating housing, education and insurance benefits for artisan families under UTHHAN.
Strategy: As a business UTHHAN has to add more artisan families and volunteers. There is no challenge in sales because of the demand. So the strategy should be to create awareness, give training, create elegant designs and showing transparency. Transparency is the primary aim of UTHHAN and the mobile application ensures the same.



UTHHAN TILL NOW:
UTHHAN mobile application is launched in multiple languages (English, Hindi, Kannada, Tamil, Malayalam & Telugu)
Enrollment of more 10000 plus artisan families already completed
Artisan Identification Card(AID) is issued to the families under the scheme
More than 100 plus NGOs and artisan organizations are helping us to identify & enroll artisans across India
The wide array of products from artisan families are already displayed
UTHHAN is already giving revenue to more than 5000 plus artisan families
UTHHAN toll-free number is inaugurated by P. J. Kurian (Deputy Speaker of Rajya Sabha). It is helping the underprivileged artisan families to contact us and share their ideas directly without any middlemen.



UTHHAN future Projections:
Setting up industrial sheds for bulk manufacturing
UTHHAN outlets across major cities in India
50000 families under the project
Educational scholarships, Life insurance, and housing for at least 5000 families
Setting up colleges for artisans with skill-related courses
Job for at least 3000 graduated Artisan youths under the scheme
"Our mission is to ensure fair prices for our artisans, while gradually building a self-sustaining enterprise. We look forward to sensitise people to the need to promote craft and support" added Leemon Ravi.
Uthhan aims to enroll maximum families as per the region and district and collaborate under a single roof. Once the families are enrolled, it helps them to create handicraft designs which are popular in the market.


UTHHAN's research and volunteer team will do the necessary analysis and guide them in a better way to create the products as per demand. Since it is an online market place, it is pushing artisan families to give emphasis on variety rather than quantity. The payment from end-user will go directly to the respective artisan accounts without any middlemen. Handicraft products are high on demand and this initiative will help in a reduced consumer price.
If you are an artist, want to build your own identity or spread out your credibility across India but you do not have sufficient funds and your looking for such opportunities then your research end here, join this platform "Uthhan". It will help to showcase your skills across India.
Visit here for more details.
Related: 6 New Startups from Delhi-NCR are giving boost to Indian Economy