Do you need Fuel-Efficient Cars for Subscription? When you take a road trip, the journey is very lively and full of fun. If you don't have your own car and can't go on road trips then you should know that car subscriptions are available in almost all major cities in India. It costs about $15,000 a month to drive an excellent hatchback as your own. If you rent a car, you don't have to worry about maintenance, just refuel and get going.
On the other hand, the rising fuel prices have become a factor to consider while on the road. With these 10 best fuel-efficient cars, your wallet will save and you can enjoy yourself guilt-free.
1. Hyundai Grand i10 Nios
Hyundai Grand i10 Nios is the most fuel-efficient car in India, making it one of the most popular cars in the country. There's more to the Grand i10 Nios than just excellent mileage and the latest technology. A 1.2L petrol engine or a 1.2L diesel engine with a power output of 75Ps and torque of 190Nm resides under the hood of this beast. The 5-speed manual and 5-speed automatic transmissions are both available with both engines. In addition, the Aura comes with a 1.0L Turbo-petrol engine that produces 100PS and 172Nm of torque. Lastly, the Grand i10 Nios can also be ordered with a CNG Kit on certain models, which produces 69PS and 95Nm of torque.
2. Maruti Suzuki Alto
The Alto K10 is one of the most fuel-efficient cars for subscription with a staggering mileage of 24.02 kilometers per liter. The rental charges for Alto K10 are also very affordable, i.e. about Rs. 11,000 per month, making it the best option for economical long drives. The new hatchback model offers lots of convenience and safety features, including ABS and airbags. It also has a premium exterior and interior, and its new petrol, diesel, or compressed natural gas engines will give you a charged holiday mood.
3. Hyundai Aura
Even though the Hyundai Aura is a relatively new model in the country, it has great mileage for those looking for a premium sedan. Powered by a 1.2L petrol engine that generates 83PS of power and 114Nm of torque, a 1.2L diesel engine producing 75PS and 190Nm of torque, or a 1.0L turbo-petrol engine producing 100PS and 172Nm of torque. A 5-speed manual or a 5-speed automatic gearbox is available with the 1.2L petrol and diesel engines, while the 1.0L turbo engine is only available with a 5-speed manual transmission.
4. Maruti Swift
Whether you like diesel cars or petrol cars, the Maruti Swift will fulfill your needs. It is one of the most popular hatchback models in India. In long drives, the petrol variant provides a very fuel-efficient mileage of 23.20 km/l.
This model comes with top features, such as power steering, ABS, and airbags, making it a good choice for a family vacation. Swifts are available to rent in almost all major cities for about Rs. 15,000 per month.
5. Tata Altroz
Tata is one of the biggest names in India, with industries ranging from fashion to steel. Tata is also very good at cars, which is another area where the company shines. The Tata Altroz has quickly become one of their most popular models, and the reasons are numerous. Besides the natural-aspirated 1.2L gasoline engine, the Altroz is also powered by 1.2L turbo-petrol and 1.5L diesel engines. 86PS of power and 113Nm of torque are produced by the Naturally-Aspirated petrol engine, and 110PS and 140Nm are produced by the Turbo-petrol engine.
6. Maruti Baleno
There are several safety features on this luxury car, including airbags, child safety locks, door ajar warnings, central locking, ABS, and EBD. As a passive safety feature, this car has an additional speed alert system that gives audible warnings when speed exceeds 80kmph. Many users prefer this model for long drives because it provides efficient security. Moreover, it has an impressive fuel-efficiency of 23.87 km/l on long distances. For Rs. 17,000 per month, Baleno is available in all major cities.
7. Hyundai Santro
Featuring a remarkable mileage of 20 km/l on long drives, the Santro is one of the best cars for subscription in India. It is a cheap hatchback with attractive styling. On highways, the car is quite comfortable. As a result, Santro has become the ideal car for small families. As a value-for-money option, you can subscribe to a Hyundai Santro, with a monthly rental charge of approximately Rs. 14,000 per month.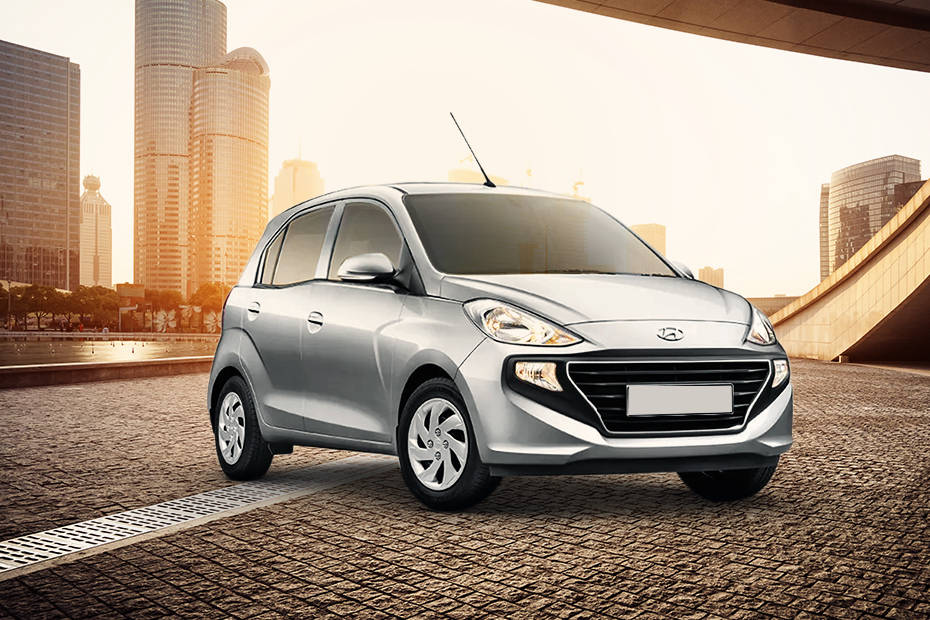 8. Honda Amaze
Every time Honda improves its products, it gives its customers a hassle-free experience. As the Japanese manufacturer has given us some of the best sedans in the past, the Amaze is just one example that keeps buyers interested. With the new Honda Amaze, you'll get 90PS and 110Nm from a 1.2L petrol engine. Also available is a 1.5L diesel engine that produces 100PS and 200Nm of torque. Either the 5-speed manual transmission or the 5-speed CVT automatic gearbox are available with both engines.
9. Renault KWID 1.0
KWID's overall performance is well known. The car has a good fuel efficiency of 23 km/l, and the exterior is also very attractive. Smartest hatchback car with SUV-inspired styling, large boot, ground clearance, touch screen, parking camera, and in-built navigation system. In addition, this vehicle is equipped with airbags, seat belt reminders, ABS, and EBD. Take your family on a joyride by renting a KWID 1.0 for approximately Rs. 15,000 per month.
10. Hyundai Verna
In India, Verna is known as the best car for women, and it will be a great choice for you if you are planning a road trip with your girlfriends. In addition to its utmost comfort, this model features excellent fuel efficiency, i.e. up to 25 km/l on long distances. This car is equipped with safety features like airbags, ABS, central locking, child safety, and power door locks. There are also comfort features like rear reading lamps, rear-seat center armrests, and cup holders in front and back. Hyundai Verna rental charges will be almost Rs. 24,000 per month.
Travel to the destinations on your bucket list and book your favorite Fuel-Efficient Cars for Subscription.
Also Read: Top 10 Best Cars Under 8 Lakhs in India