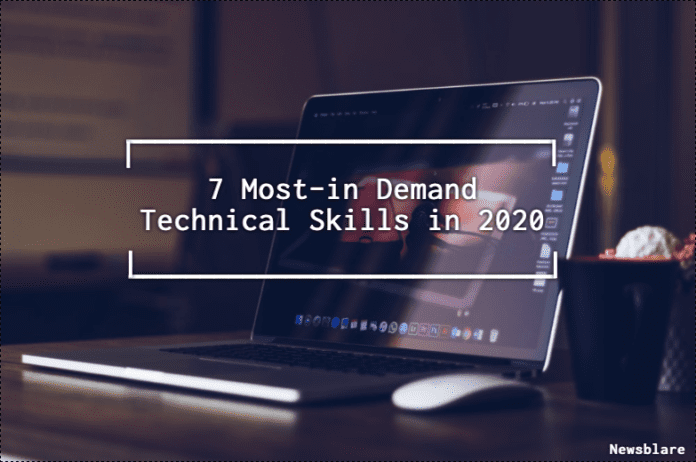 The world economy is sleepwalking into a financial crisis, warns Mervyn king. India's foreign direct investment(FDI) equity inflows fell for the first time in six years in 2018-19 with a steep decline in foreign funds in telecom, pharmaceuticals, IT, and power sectors. With this, the Indian, IT professional, technology hiring is also slowing down – This result: the demand for the technical skills are also slowing down.
According to the latest research of the IT Employment survey, Indian employers cutting the hiring plans for the financial year 2019-2020. The slowing down of the Indian economy seems to be effective in the IT sector and lowering the demand for technical skills in the market.
However, there are some technical skills that are most in-demand in FY 2019-2020, which can improve your job prospects. Here is the list of the 7 most demanding technical skills in 2020.
1. Software Product Development
The software development industry is one of the fastest-growing sectors today, the demand for software developers are everywhere in the world.
India's IT sector contributed 7.9% of the country's GDP. The software industry produced around 1,05,000 jobs in India in FY 2018 and is expected to add over 1,00,000 more jobs in FY 2019.
The IT sector is promoting the growth of startups in India with a presence of over 5200 startups in India.
2. Application maintenance services
The application maintenance services market is estimated to expand with the rate of 22% CAGR for the next few years 2017-2023.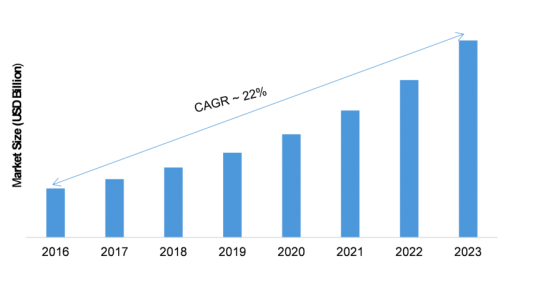 Application management services help business organizations to meet the demand for rapidly growing innovation and maintain high levels of service quality. It helps in providing cost-effective service solutions and to restore existing application service operations.
According to the Market Research Future report, the major key players Accenture (Ireland), Atos (France), Oracle Corporation(U.S.), Deloitte (U.S.), Dell Inc. (U.S.), etc.
According to the MRFR, the global application maintenance services market is expected to reach over 35 billion dollars with an increasing rate of 22% CAGR for the period of 2017-2023.
3. Cloud computing
India's cloud computing market is growing rapidly. It is one of the world's second-largest market after China, at 40.2 percent (CAGR) over 2016-18. And, it is expected to reach 7 billion dollars in 2022 by 30% compounded annual growth rate (CAGR) which is the three times of the current market.
Two major key players Infrastructure as a Service (IaaS) and Software as a Service (SaaS) are expected to contribute to this growth. MS AWS and MS Azure certification are the most demanding courses to get expertise in this domain.
NASSCOM President Debjani Ghosh stated that India's cloud computing market is growing rapidly and, the technology is increasingly adopting the businesses as well as consumers.
The global spending on the cloud market is increasing by 16.5%(CAGR) and is expected to reach 354 billion dollars by 2022.
Related: Cloud Computing can Expect Revolutionary Changes in Coming Years
4. Hardware and Networking management solutions
Network Management System(NMS) helps companies to supply, Monitor, and manage the computer hardware in order to increase the availability of hardware in real-time.
Network Management includes various services – fault management, security management, account management, and management of performance. It is expecting substantial future growth in the Network Management market because of its functionalities.
According to the KBV research, the Global Network Management System Market is expected to reach 11 billion U.S. dollars in revenue by 2024 which is rising at a market grwoth rate of 10.2% (CAGR) during the forecast period.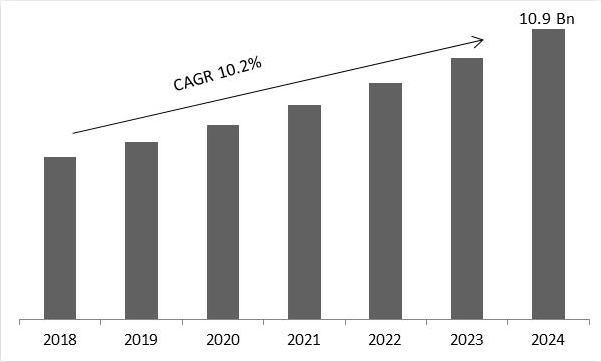 With the growth of the global market towards the 5G network, enormous amounts of investment expected in building new data centers. Therefore, experts seeking a huge growth in the market.
5. Big data
Big data is a field that takes a computerized approach to extract the information from or deal with the data sets that are too complex in nature, with traditional data-processing application software.
As per the International Data Corporation(IDC) forecast revenue, the big data and business analytics (BDA) solutions have grown rapidly in the past few years. The market made $169B in revenue in 2018 – which was $122B in 2015 and $149 in 2017. An estimated reach to $189B in this year, an increase of 12.0% (CAGR) over 2018. IDC believes that worldwide BDA revenue will be $274.3 billion by 2022, with the five years (2018-2022) Compound annual growth rate(CAGR) of 13.2%.
In this fast-growing market, there is no surprise that individual business intelligence (BI) and data visualization platforms are being acquired and converted into bigger tech companies.
In the month, Jun 2019, Google Cloud spent $2.6 billion to buy Looker, and Salesforce dropped a heavy $15.7 billion on Tableau. Both companies are specialized in enterprise-scale data modeling that automates data analysis.
Related: Apple moves to India a huge signal for foreign investment: FM
6. Cybersecurity
The cybersecurity market is classified into several segments – By component, organization size, deployment mode, security type, industry, and region:
In terms of components, the cybersecurity market is categorized into solutions, services, professionals, and managed.
Based on organization size, the cybersecurity market is classified into large enterprises and SMEs.
On the basis of the deployment model, the cybersecurity market is segmented into the cloud and on-premises.
In terms of security type, the cybersecurity market is segregated into application security, wireless security, endpoint security, network security, cloud security, and others.
Based on industry, the cybersecurity market is categorized into banking, financial services, and insurance, government, aerospace & defense, IT and telecom, manufacturing, healthcare, energy & utilities, retail, and others.
Region-wise the market is spread into North America, Europe, Asia Pacific, Middle East & Africa, and Latin America.
Global Cyber Security Market was around US$ 92.7B in revenue in 2017 and is expected to grow at a CAGR of around 10.81% in the forecast period of 2018-2026.
According to data compiled by Burning Glass, the number of unfilled cybersecurity jobs grew to over 300,000 in 2018, with average annual salaries of over $100,000 for key positions.
According to NASSCOM, India alone would require one million cybersecurity professionals by 2020, while job portal Indeed reported a spike of 150 percent in cybersecurity roles between January 2017 and March 2018. Companies like KPMG have doubled the size of their cybersecurity teams in recent years.
7. Legacy applications
The "Application Transformation Market categorized into various kinds of Services – (Cloud Application Migration, Application Replatforming, Application Integration), Organization Size, Vertical (Retail, Telecom, Government, Healthcare, Manufacturing) & Region.
The Global Application Transformation Market Size is around USD 9.7 Billion in 2019 and is expected to reach USD 16.8 Billion By 2024, at a CAGR of 11.6%.
The reason for major growth in this sector is the need for a robust and agile environment in order to increase the scalability and efficiency in the existing business landscape. And, due to the high maintenance cost of existing legacy applications, and leveraging emerging technologies and increasing efficiencies of existing applications. These factors are expected to drive the global application transformation market.
The major big player of the Global Application Transformation Market is Atos (France), Tech Mahindra (India), Fujitsu (Japan), HCL (India), Cognizant (US), Pivotal Software (US), Accenture (Ireland), IBM (US), TCS (India), Asysco (Netherlands), Unisys (US), Hexaware (India), Oracle (US), Micro Focus (UK), Bell Integrator (US), and Microsoft (US).
Conclusion
If you are from a technical background and want to start your career or are looking for jobs in any of the above fields, these are the most demanding technical skills in the coming future. You can start your career in any of the above fields, you can achieve success in a big way because these technologies have more employment requirements in the coming future.
Related: