Do you want to give your skin the ultimate treatment? Try sheet masks! In recent years, sheet masks have become increasingly popular. The moisturizing properties of sheet masks provide your skin with an ultimate hydration boost. We have compiled a list of the 10 best sheet masks available in India to help you make the right decision. Scroll down to see them.
Sheet masks: what are they?
The fabric of sheet masks is soaked in nutrient-rich serum. It consists of fiber, gel, and paper. As the top of the sheet has a handle, it can be applied and removed easily.
Masks for the face are very different from this. The remaining residuals can simply be patted on the skin instead of being washed off. This has grown to become a widely used beauty product. This has become an inseparable part of beauty products.
There is a growing popularity of sheet masks across the country. As a result, it hydrates, moisturises, brightens, and calms the skin.
Sheet masks – how to use them
Follow the steps below to properly apply the product.
Wash and wipe your face.
After that, cleanse and tone.
Leave the eye and lip areas uncovered when applying the mask.
Removing the mask after 15 minutes is easy with a handle.
To apply and remove the mask, the handle will be applied to the top of the skin.
What are the benefits of sheet masks?
Sheet masks have multiple benefits.
Hydration – Sheet masks moisturize the skin. The serum in the mask soaks into the skin. As a result, the skin becomes less dry and dull.
Enhances skin quality – Sheet masks provide sufficient minerals and vitamins that improve skin quality. They also help to even out the skin's tone.
Easy to apply – it has a handle on top of the skin. So it is easy to use and clean.
1. GARNIER SKIN NATURALS Serum Mask Hydra Bomb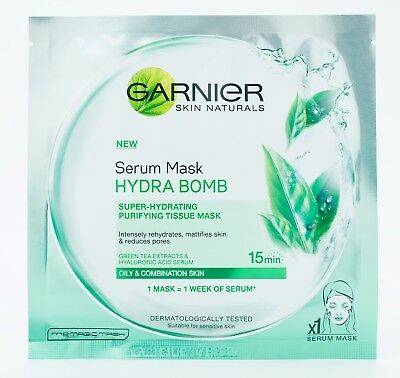 One of the best sheet masks for oily skin, the GARNIER SKIN NATURALS Serum Mask Hydra Bomb hydrates, strengthens, rebalances, and purifies oily skin in just 15 minutes. For controlling excess oil, it is infused with the goodness of green tea. Hyaluronic acid reduces wrinkles and open pores. With regular use, this sheet mask ensures healthy and clear skin.
2. Innisfree My Real Squeeze Sheet Mask – Lime
One hundred percent of the fiber in this sheet mask is biodegradable Eucalyptus. Additionally, it has an adhesive quality and is effective.
As a result of their Vitamin C content, lemons are a rich source of antioxidants. Apply it for at least 20 minutes for the best results. You will get a glowing, glowing complexion after using it. These are among the best sheet masks in India.
3. THE FACE SHOP Lemon Citron
This brightening sheet mask from THE FACE SHOP gives your skin a healthy, radiant glow while refreshing it. The Korean sheet mask restores suppleness and smoothness to your skin. Lemon essence contains vitamin C that inhibits the production of melanin and lightens the skin tone. Your skin will be hydrated for a long time with the shea butter and hydrating agents. With the superior retention power of this sheet mask, the serum will also soak into your skin without dripping off.
4. Mon Cherry sheet Mask
Sheet Mask Mon Cherry provides hydration and rejuvenation for the skin. Extracts of cherry blossoms, olive oil, babassu seed oil, mineral-rich pearl extracts, and grapefruit are included. Additionally, it supports firmer looking skin and evens out skin tone. It also hydrates and soothes skin. Purchase sheets online at best prices.
5. GARNIERSKINACTIVE PURE CHARCOAL Black Tissue Mask
It firmens and reduces enlarged pores with GARNIERSKINACTIVE PURE CHARCOAL Black Tissue Mask. This sheet mask is great for oily skin. As it cleanses your skin, the active charcoal also removes impurities and blackheads. Hydration is provided to the skin by black algae extract and hyaluronic acid. For an oil-free matte finish, this sheet mask gently detoxifies, purifies, and moisturizes the skin.
6. Santoor Brightening Sheet Mask Aloe & Sandal
Using a santoor sheet mask is the same as using a santoor body soap. By increasing the amount of moisture in the skin, it is known to provide glowing skin. By increasing the amount of moisture in the skin, it is known to provide glowing skin. As it increases moisture in the skin, it can provide glowing skin. Made from aloe vera extracts and sandalwood. Provides a refreshing and brightening sensation to the skin. By regularly using it, moisture is maintained and skin tone is evened out. In fact, it is considered to be the best source for achieving instant glowing skin after using it. The best results can be achieved by using it more than once. With long lasting results, these are also the Best Sheet Masks For Instant Glow.
7. LAKME BLUSH & GLOW Fruity-Licious Sheet Mask Kiwi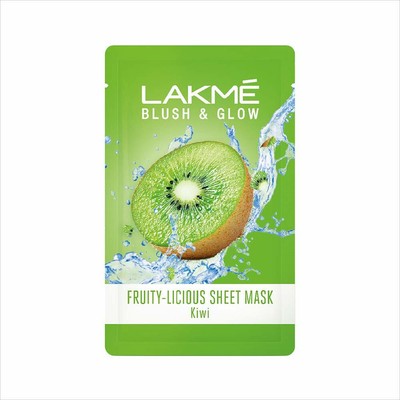 LAKME's sheet mask is infused with the goodness of 100% pure kiwi extract to deeply moisturize, hydrate, and renew your skin, leaving you with a natural glow all day long. In addition to removing dead skin cells, it eliminates dry skin patches and brightens skin tone. As one of the best sheet masks for glowing skin in India, the breathable fabric also smells delicious to give you a luxurious spa feeling at home.
8. Nykaa Skin Secrets Black mud + Aloe Vera Sheet Mask
The sheet mask helps to hydrate and purify the skin. It is made from natural ingredients like soil from India. The soil fulfills all the requirements of the skin in every way. Find best prices for sheet masks in India online.
There are also 29 variants available. It comes in 29 variants, all of which well-crafted using eco-friendly fabrics. Because of the presence of serum in this mask, it is designed to improve moisture for a very long time.
9. MINISO HydrolatRosemary Balancing Mask
With honey, cucumber, aloe vera, charcoal, and olive, the MINISO Rosemary Balancing Mask hydrates the skin. Rosemary essence smoothes and nourishes your skin, forming a protective layer. Antioxidants improve the skin's tone, firmness, and pigmentation while reducing puffiness, dark spots, and dark spots. This mask's deeply moisturizing properties combat fatigue to give you an instantly fresh appearance.
10. Mirabelle Korea – Tea Tree, Essential Facial Sheet Mask
From the root, this sheet mask nourishes and moisturizes the skin. It ensures maximum hydration and softness of the skin.
The product contains roots and leaves of Pius Palustris and Pueraria Lobata. This could also benefit the skin.
Also Read: Top 10 Beauty Benefits of Activated Charcoal on your Ski