This season, wide-legged pants are back in style. Find out how to Style Wide-Leg Pants in this article with some fabulous wide-leg pants outfit inspiration.
Palazzo pants, or wide-leg pants, are long trousers that have an extremely wide leg and flare out from the waist. Despite palazzos being popular as a summer style earlier, we can say that our fashion designers and stylists have made them into an all-season style. A wardrobe for every season can be created with these flowy and lightweight pants. These wide-leg pants look good in breezy fabrics in summer as well as wool blends and the like in winter.
Today, these pants come in a variety of styles and silhouettes and have become a staple garment in every capsule wardrobe, as well as a favorite piece of our celebrities.
The top 10 ways to Style Wide-Leg Pants have been curated to give you all something to take inspiration from. Check them out!
Combined with a plain t-shirt
One of the best ways to elevate your wardrobe basics is by wearing a plain t-shirt with wide-leg pants.
It's their simplicity that makes them easy to wear with anything, so everyone should keep a few plain t-shirts in their closet. The bottoms can be styled with different bottoms and sometimes even worn over dresses.
Wide-leg pants look great with plain t-shirts and simple tops. Specifically, the simplicity of the t-shirt allows the pants to stand out and gives you a nice balance, especially when you tuck your t-shirt in. If you're going for white, it's a wardrobe staple and goes well with any color of pants you choose.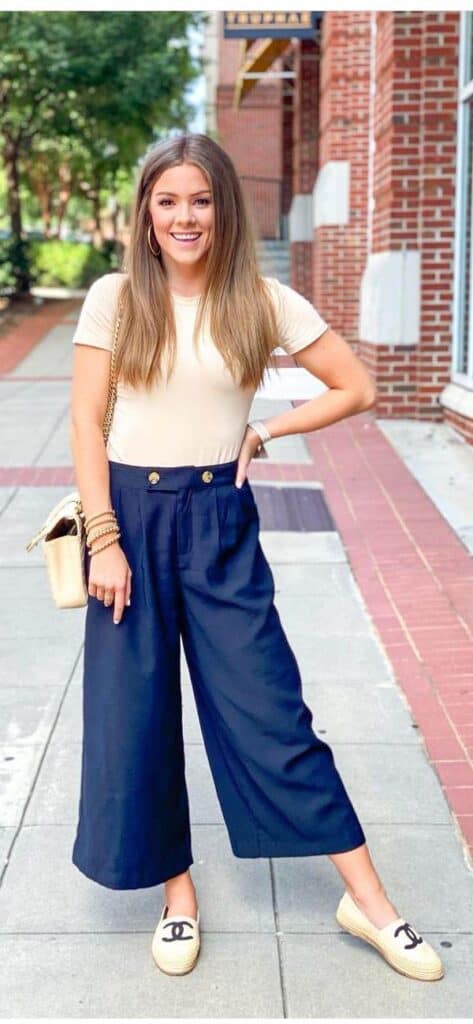 Combined with a denim jacket
If you're looking for a casual way to style your pants, denim jackets can be worn with wide-leg pants as well.
Besides being comfortable and easy to wear, denim jackets never go out of style. Denim jackets can be worn any time of year and with dresses, jumpsuits, and all bottoms.
You will look younger with this fun look if you wear it while going out.
Combined with cardigans
No matter how long or short your cardigan is, you can wear it with wide-leg pants.
Although cardigans have been around for quite a while, they are now totally fashion-forward with bloggers, stylists, and celebrities wearing them in a variety of ways.
If your wide-leg pants are denim, a cardigan like this adds a classy feminine touch to them. These cardigans can be either printed or plain.
It's been a long time since these cardigans made everyone look like they were ready for school. Wearing a cardigan in a trending print (such as leopard) not only looks adorable but also makes your wide-leg pant outfit look more classy.
If you choose a printed cardigan with wide-leg pants, choose a simple plain top, simple accessories, and plain shoes to make this outfit look more classy.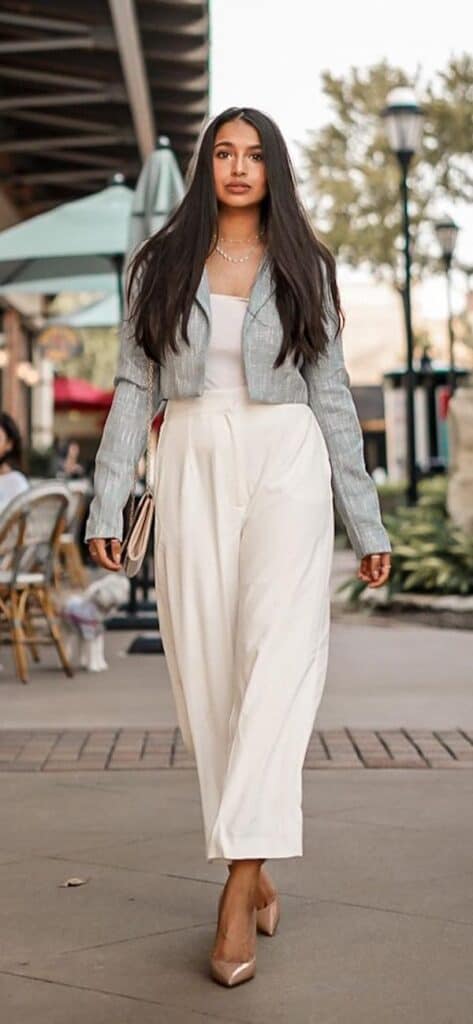 Topped with a tube
One of the best bottoms you can wear with a strapless tube top is a pair of wide-leg pants. It's one of the easiest outfits since all you need to do is tuck the shirt into your pants and you're done.
A strapless tube top has the advantage of being both ultra-feminine and very minimalist. In general, tube tops are easy to style and a fitted one is very versatile. The pieces work great with baggy bottoms or less fitted bottoms and are perfect for summer.
Wear full-length wide-leg pants for a dressier look. Those who wish to appear taller in their dress should also consider this length.
You can wear a cropped pair paired with sandals or sneakers for a casual look.
Combined with a tank top
You can also pair your wide-leg pants with a tank top as another great way to wear them.
Choose a monochromatic color scheme or a contrasting one. In either case, once the top is tucked in, you will instantly look chic. A pair of heels and a pair of wide-leg pants long enough to cover most of your heels will dress up this look.
When paired with a cropped jacket
Cropped jackets are one of the most flattering pieces to wear with wide-leg pants.
Cropped jackets are great if you want to keep warm and look fashionable while reducing your waistline. Wear them over dresses, jumpsuits, and high waist bottoms for a great look.
Especially if you're looking for a classier outfit, high-waisted ones are the best for this look. You'll also appear more youthful wearing cropped ones.
With a graphic t-shirt
Wear your graphic tee with a pair of wide-leg pants, whether denim or another fabric.
Wearing a graphic t-shirt can help you express your personality through clothing. Despite their simple design, they also have an edge because of the images that can be drawn on them.
Make sure you pick a t-shirt with colors that coordinate with your pants so that your outfit doesn't overpower you.
With a vest
Wide-leg pants can be worn with either a casual or dressier vest, depending on the look you're going for.
If it's hot outside and you don't want to wear a coat, a vest is another way to make your outfit look dressy. Because the vest does not have sleeves, it does not overwhelm your outfit.
You can choose a long vest, a short vest, a jacket-like vest, or a coat-like vest.
When paired with a camisole
Camis are feminine, delicate pieces of clothing that are great when worn by themselves on hot days, but they can also be worn as a slip underneath an outerwear layer. As they do not cling to one's body, they are also very comfortable.
Wide-leg pants make your cami outfit chicer when worn with a cami. With its minimalist design, the cami gives your look great balance. You can choose between a printed or a plain cami top.
Combined with a sweatshirt
It's easy to get a casual yet stylish look when you wear a sweatshirt with wide-leg pants.
Sweatshirts are great for lounging around, especially on lazy days. You can, however, wear your sweatshirt outside if you style it well, such as dressing it up with wide-leg pants.
The unexpected look makes it even better. In addition, the outfit is very comfortable.
Conclusion
The fact that you can wear wide-leg pants with a variety of different pieces makes having a few in your closet an excellent idea. You can find most of these tops and outerwear in your closet if you shop around. Whether you're heading out on a date, a girls' night out, to the office, or even to the church, you can be sure to find the perfect wide-leg pant pairing.
Also Read: Top 10 Spring 2021 Fashion Trends to See Now