Looking for Best Outfit Ideas for Groom's Best Friend? It is wedding season and you might have already been invited to several Indian weddings of your friends and relatives. As soon as you receive the wedding card, the very first question that pops into our heads is: What to wear to an Indian wedding? This also applies to Indian men. There might be a lot of options for women, but few options for men. Let's find out what awesome options men can wear as guests at Indian weddings today.
Outfit Ideas for Groom's Best Friend
1. Royal Pantsuit
How about a destination wedding amid forts and royalty? You're in good hands. Wear this regal suit as a groomsman this wedding season for a stylish look.
Wear Oxford wingtip black formal shoes and round black sunglasses (optional) to highlight your clean-cut look.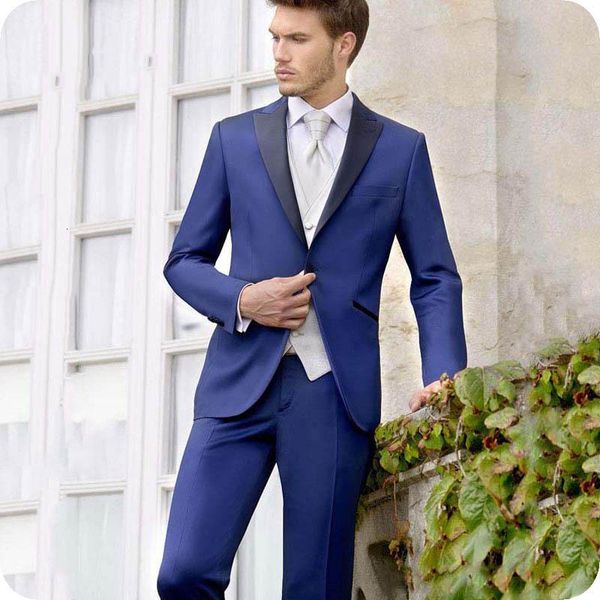 2. Casual Blazers
Whenever a man attends an event, a casual blazer is his best friend. He can wear it with colored jeans and chinos. The outfit looks effortless when paired with a nice pair of boat shoes or formal shoes. It becomes slightly more formal with the tie and pocket square, perfect for the more formal events of a wedding. These can also be worn to cocktail parties. Color coordinate the groomsmen's blazers with a lighter or darker shade than the groom's. A uniform looks good on all the groomsmen and makes them look like a cohesive group on the big day.
3. Dhotis and sherwanis
These sherwanis bring an ethnic twist to regular sherwanis with a dhoti, making them a hot commodity this season. Every man's outfit is complete with a dhoti. A man from India looks right at home in a dhoti, which contrasts with the sherwani. At the same time bringing out the colors of the sherwani. Additionally, they are ideal for weddings at any time of day. Summer weddings in hot weather are even better with dhotis. These would make an excellent outfit for an engagement party or reception when paired with an embellished jutti & a Nehru jacket. Dhoti and kurta sets can also be paired with juttis and a stole.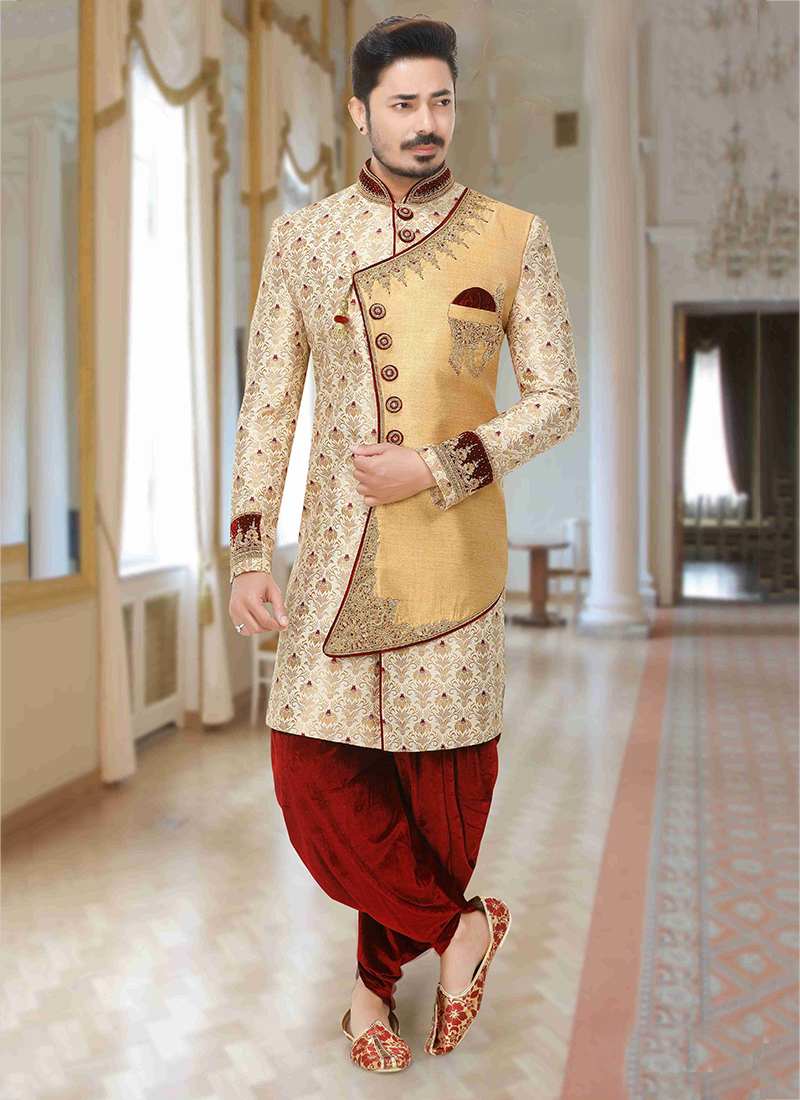 4. Groomsmen's Bandhgala Jacket
A sherwani is the perfect wedding outfit. There are so many different ways to wear a sherwani in today's fashion society that you'll be amazed. Colors are always a good option, but they may not suit everyone. For a contrasting look, go for black. You can add depth to your look by experimenting with prints and embroidery. Reduce the amount of work on the sherwani so that the groom stands out & the groomsmen are prepared. Safas and juttis must be matched with the sherwani.
5. Appropriate Achkans
Achkans are essentially Indo-Persian mix styles of a sherwani that are very popular when it comes to the latest groomsmen outfits in India. Your wedding will surely turn heads with a long knee-length coat tailored to perfection.
6. Sherwani in Western-style
Among all the Indian groomsmen outfit ideas, the Indo-western Sherwani has to be the most elegant and unique. This Indian groomsmen attire idea will never go out of style and will always be fashionable. It gives a beautifully distinctive air to the traditional dress with its elements of fusion. The picture of the Indian groomsmen's wedding outfits proves what we have been saying. When paired with a dhoti or pajama, the Indo-Western outfit is always a great choice for the big day.
7. Floral and pastel-hued traditional clothing
As groomsmen, we think florals and pastels are the most fun way to dress! An embellished or floral printed kurta is perfect for groomsmen since it's casual and cheeky. Stick to traditions while adding your flair.
8. Peshwari salwars & Dhoti pants
The Indian groomsmen outfit ideas have embroidered collars, cuffs, buttons, and hemlines. A rich and royal appearance is achieved by pairing the sherwani with a Peshawari salwar. Furthermore, the best thing about these Indian groomsmen attire ideas is that you don't have to worry about the dhoti getting undone since it is already pre-stitched and worn like a salwar, giving the illusion of a dhoti. It's amazing, isn't it?
9. Wearing Evergreen Waistcoats
Waistcoats are the thing for you if you're all about comfort. Indian groomsmen dresses are amazing and can be worn with Kurta Pajamas or any outfit to make it look stylish without compromising on comfort. There are a lot of things you can do with ease, including dancing and singing!
10. The trend of dupattas
Wedding guests' ethnic wear has undergone a drastic change in recent years, and dupattas are making a comeback. The look for your royal wedding is a contrasting dupatta paired with a bold or beige kurta, and this is the look that is winning hearts across the country. If your kurta is plain, you can pair a printed dupatta to give it an edgy look. If your outfit looks incomplete, look no further. Just pick a dupatta and pull it off with style.
Also Read: Top 10 Most Luxurious Fashion Brands Of 2021