Who doesn't like a subtle, elegant and graceful look? To all the fans of ethnicity, grace and minimal yet stylish look, we know how much you all love Kurtis. For a perfect evening, or a gossip session with friends, and light family dinners, Kurtis is for every affair.
Ever since the Kurtis have become everyone's favourite, the Kurti designs are overpouring, and you will only get better designs on every next store. So, why don't you buy what's best! Here are the latest Kurti designs to ace that perfect festive look –
1. Anarkali Kurtis
How WOW is the complete look of Anarkali Kurtis! Available in endless colours, designs and even in fabric, Anarkali Kurtis never fails to amaze. It compliments every height, age and physique of a girl and adds an extra gorgeousness to the complete look.
In addition, these can be flaunted in light prints as well as heavily embroidered styles to match up with your occasions' vibes. Pair it with a platform to stilettos heels, and get a statement look no one can ignore.

2. Straight Kurtis
When it comes to finding that perfect partner for your ethnic pants or your salwars, nothing can match the grace of straight Kurtis. This Kurti design is for everyone. With proper comfort and class, this also adds superb magnetism to the festive look. From plain to light printed, from heavy embroidered to mirror work, straight Kurtis is designed in a variety of ways.
So, natter, if you have cousins' wedding lined up or are expecting a friend's reunion, add a straight and elegant Kurti to your cart right now. Visit any platform with the latest Kurti designs for girls, and shop, shop, shop!

3. Kurti with Jacket

 
Who thought Kurtis could be paired with a jacket? Well, we thank whoever designed it first!
This Kurti design having a short or long jacket over a plain or printed Kurti can elevate every female's look. It can be your favourite dress for a comfortable picnic evening or can be your "Let me slay" look for a festive evening.
Get these in printed, embroidered, short or long jackets with straight, A-line or even Anarkali Kurtis and get that rich, sophisticated and classy look right in your hands.

4. A-line Kurti
If the anarkalis length is a concern for you or if you don't want to leave a room for sudden oops moments in long length Anarkali, A-line Kurtis is for you! These provide no less than a star look and ensure you a statement look difficult to take eyes away from.
A beautiful A-line Kurti with perfect earrings and hand bracelets can take you from Oops to Wow in minutes.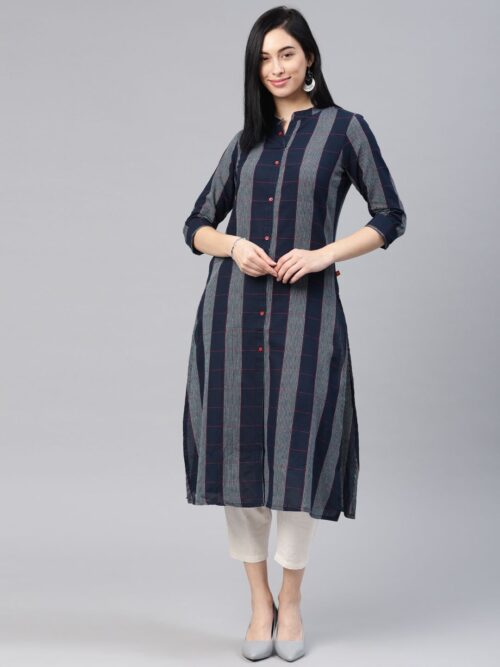 5. Kurti with Poncho
A perfect muster of modern style with elegant Indian Kurti design, Kurti with Poncho is for anyone who wants to rock a modern yet ethnic simple attire. So, no matter if you or your mom wants to establish a class with modern-Indian roots, Kurti with Poncho is an ideal choice.
Pair it with heels, small stud earrings and an elegant hand bracelet to complete your optimally balanced look.
6. Short Kurtis
Who said Kurtis could not be good for a modern look?
In an era of new fashion Kurti design, short Kurtis is new trend girls are going gaga over. For a hectic office day or a comfortable evening with friends, short Kurtis with jeans is a trendy outfit these days. Pairing it with statement earrings, sleek heels, or comfortable flats complete the whole look gracefully and beautifully.
In addition, these are available in a range of colours and designs and therefore defer the concern of wearing formal colours for the office.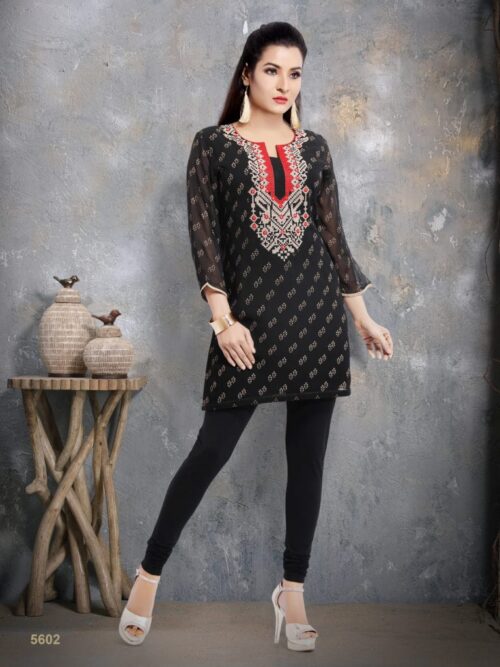 Kurtis is no less than a girls' must-have. Having a Kurtis of every style in the wardrobe is like having a friend. These are saviours for a rainy day, a sassy day with friends, a comfortable evening with family, and an Indian festival day with all vibes, Kurtis is so much "FUN". When paired with elegant heels and a perfect complement of jewellery, Kurtis is also a companion for all glammy to simply elegant enough to drool for the look. So, get all those new fashion Kurti designs now!
Read More: