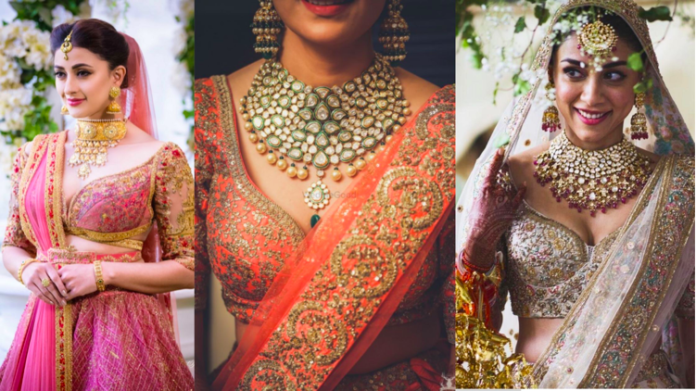 Weddings. Any indian wedding, whether a big fat one or an intimate ceremony, requires alot of planning. If you are getting married this year, and have finalised the best wedding date in 2021, then you better start planning.
There is so much that needs to be done, from booking of the venue to finding the best photographer, from finding the right makeup artist to deciding on your wedding favors. Oh well, the list is endless. But the one thing that most brides are excited about are their bridal outfits.
Weddings involve an array of clothes and jewellery that form an indispensable part of parties and festivities. Every wedding function requires a brand new and exceptionally styled set of clothes for the bride who will be the centre of attention on her special day.
With changing trends and fashions, brides need to be up to date with styles so that they can be the most fashionable brides on their wedding day.
Sarees and Lehenga remain to be the most worn outfits for any wedding function. However, brides have come up with ways to modernise these drapes and outfits by altering and customising their blouses to add a unique touch to the entire getup. This not only makes them stand out in the crowd but also makes them have a personal touch of style in their wedding outfits.
So after you are done with your bridal lehenga shopping, it is the time to figure out what should be your blouse design. Here are some latest trends in blouse designs that will surely make you look like a diva on your most special day:-
1. Stylised Backs
Deep low cut blouses and plain old designs are a thing of the past. This year brides are opting for a more stylised back which will take any outfit to the next level. You can opt for a variety of options in styled backs like embroidery, lacework, decorative tassels, rhinestone chains, cutwork, patchwork, and so on.

2. Contrast Colours
Colour coordinated sets for wedding functions? Too predictable. This wedding season, try on contrasting colours of blouses with your saree to add a pop of colour and break the monotony of colour-matched sets. Go with beautiful pairs like green and red, pink and blue, red and yellow, and other such delightful colour combinations. You can experiment with colours and come up with a brand new trendy combination.

3. Neckline Play
Tired of having the same old necklines on all your blouses? Try something different for your bridal blouse. The new year has brought us some cool new necklines that are both unique and fashionable. Find a huge variety of beautiful necklines to add a touch of beauty to your blouse.

4. Creative Sleeves
Fusion is the hottest trend in the area of bridal outfits this year. Gone are the boring straight plain sleeves that only had variety in length. Welcome new improved and fashion-forward blouse sleeves which will make your guests go wow. Opt for a blouse with a more creative sleeve so that the blouse is as trendy as your lehenga skirt/saree. Add your own style with some puffed sleeves, lace sleeves, ruffled edges, trumpet sleeves, bell sleeves, and so on to create your unique customised wedding outfit.

5. Stylised Silhouette
Why opt for the same silhouettes when you can sport some modern cuts? Add a modern twist to your traditional outfits by opting for a styled silhouette. Pair your saree with a peplum blouse, add scalloped edges to the ends, do a dramatic one-shoulder, choose a long length blouse, flair up your blouses with some amazing new silhouettes to become the perfect modern bride.

Related: Top 10 Most Romantic Places for Pre Wedding Shoot in India