Have you ever thought of turning your house into a luxury hotel that is beyond your imagination? It will not only look attractive but will also give a luxury feel.
A luxury home has its advantages because you can get everything in one house. Living in a luxury home gives our mind extra happiness. It feels very relaxed and comfortable.
Turning your house into a luxury hotel gives us a wonderful experience and a luxurious feel like a five-star hotel. So, here we have come up with some top ways by which you can transform your house into a luxury hotel.
1. Turning your bedroom into a five-star hotel room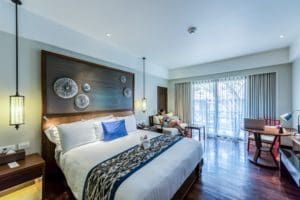 The bedroom is the most attractive part of the house and the bed is the center of attraction in the house. It is not possible to buy a new king size bed every time, but adding a little touch to your bed that will make it look like new!
Changing a new sheet
The first thing to change in your bedroom is your bed sheet. The bed is something that everyone notices.
Choosing an attractive color for your bedsheet
Always choose a light-colored bedsheet. It will look great, you can choose a white color, gray color, and other light colors. It feels so simple and classy and looks like a hotel suite.
Pillows and Cushions
Cushions and pillows are an attractive part of the bedroom, most luxury hotels choose to use feathers under the pillow so if you are planning to convert your house into a hotel then you have to opt for it.
Always choose light shed curtains for the bedroom as it will look like a luxury hotel.
Headboard
Always go for a padded headboard or quilted headboard, it will make it feel like a luxury hotel.
2. Transform your living room into a luxury lounge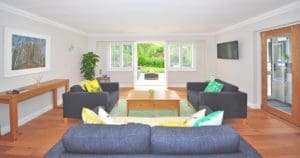 It is important to find the style you choose, imagine that your lounge is a luxury hotel suite and look at it from a design perspective. Any clutter should be well covered.
You can also choose different accessories in matching shades. For example – use different colors of ivory for cushions or different materials and textures but the same overriding colors. It ties right into a room and creates a more design-led experience.
Add fresh flowers and fruits
A beautiful vase with beautiful flowers and a bowl of fresh fruit on the table is a great idea.
3. Design Your Bathroom like Spa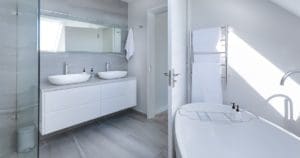 The bathroom is the most important part of the house. You can design your bathroom gives a sense as a spa.
Invest in fragrances
You should invest in a beautiful fragrance such as air freshener, oil wick, etc. so that the bathroom smells good.
Towel & Decoration
Towels and decorations are the most useful items widely used in hotel bathrooms, so if you are turning your home bathroom into a luxury bathroom, always choose a single colored towel. For example – if you are choosing a white towel then everything else should be in white colors such as white face cloths, white frames, and white candles. They all work together and provide a bathroom to feel really special.
Dressing Gowns
Dressing gowns are an important part of the luxury bathroom. So you should invest in a new dressing gown and hang it in the bathroom so that your guest can use it when needed.
Conclusion
Transforming your ordinary home into luxury hotels is like everything else and mind-blowing idea, you should try for your house. And, live life like a super luxurious hotel at home without paying extra money. We believe that the above ideas will help you in turning your house into a luxury hotel.