It's not uncommon for entrepreneurs to feel trapped by the business' expenses. Therefore, finding solutions to save money is a priority for you, so you'll look for them whenever possible. By doing so, you can increase cash flow and profitability.
However, the potential expansion of online shopping has resulted in a corresponding rise in delivery demands. Therefore, carriers modify their pricing structures per variables such as the distance traveled and the storage capacity availability. This mainly affects small business owners.
To remain competitive, you have to minimise your shipping costs without jeopardising the quality of your product or the satisfaction of your customers.  
As a small business owner, you must devise a strategy for your shipping expenses. Check out these helpful hints to learn how to do it. 
1. Use Hybrid Carriers 
Hybrid forms of service use several delivery services to pick up shipments from your small business. Afterward, they hand these off to a third delivery company to complete the delivery.
You can take advantage of the pricing and offers provided by the carrier firms if you choose a plan that utilises hybrid services.
With this, you can also choose which one may be the most appropriate for your small business. This is helpful given that many companies provide various shipping options, including domestic, international, oversized and others.
So, for example, if you're shipping anything internationally, you'd look for a shipping company that offers a 40ft shipping container. It isn't only more affordable but also incredibly long-lasting, secure and resistant to the outside elements. 
2. Go With Small Packages To Save on Shipping Costs 
It's in your best interest as a small business owner to minimise the size of your package. Large boxes are unnecessary if the item doesn't require a lot of space. To further cut expenses, you could consider packing many items into a single box.
You may also want to invest in a postage scale. This will allow you to calculate each shipment's costs more accurately.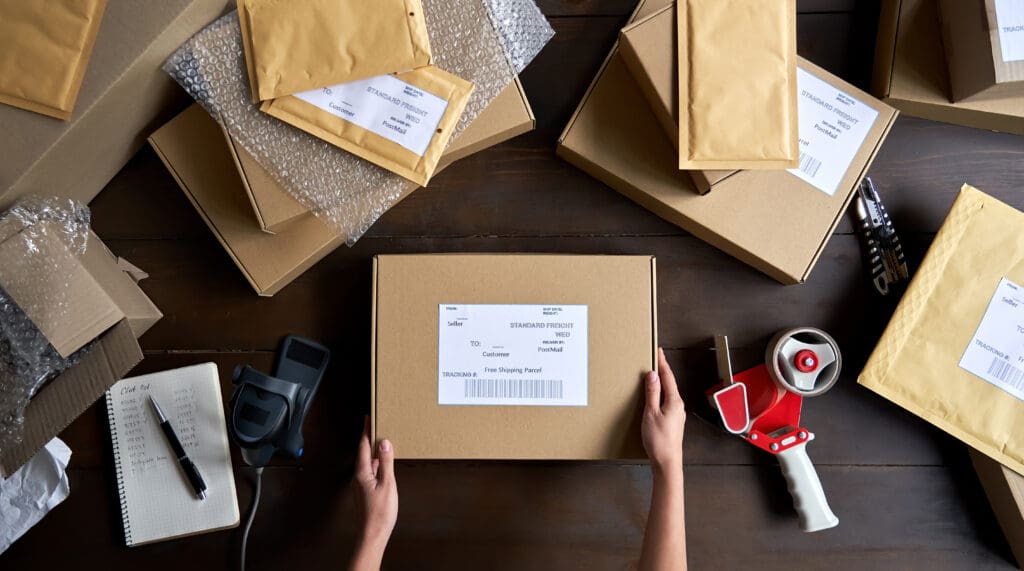 3. Negotiate Rates  
Even if you aren't shipping hundreds of packages each month, you shouldn't be afraid to ask for a discount. There's no harm in exploring the possibility of securing volume reductions for continued service from a single shipping company.
Several local carriers have physical locations you may visit or contact by phone. But before doing that, you need to find the standard shipping prices for your sector. Then, construct a credible argument for why your company should be granted a price cut.
If the carrier is unwilling to accommodate your requests, don't be afraid to walk away. There are still other carriers you can negotiate with.
In the best-case scenario, a shipping company that learns you're considering switching can be more amenable to negotiating lower rates to maintain your business. 
4. Go Prepaid Shipping 
The vendor will cover the delivery costs under a prepaid shipment arrangement. When you buy bulk shipping labels from the carrier, you're eligible for a reduction of up to 20% off the cost. Additionally, it can help you save time because you won't have to go out and buy individual labels for each delivery.
However, to guarantee that the cost of shipping your box is calculated accurately, you need to ensure that your shipment's dimensions and weight remain consistent. 
5. Get Insurance From Third Parties 
With the sheer volume of packages shipped daily, some are certain to go missing, be stolen, or sustain some damage in transit.
Additionally, a missing or damaged package may be highly detrimental to your brand's image if you run a small business.
It's prudent to invest in insurance capable of compensating for such losses. It's also better to use third-party insurance as it's more cost-effective than coverage from your provider. You undoubtedly already know that shipping insurance can get rather costly, so this is especially critical if you send valuable items. 
6. Use Carrier's Packaging 
Using the carrier's own packaging is the best approach to ensure that you can adhere to the carrier's package dimensions regulations.
You can also obtain savings if you buy their packaging in quantity. Don't be frightened to implement this technique. It may be costly initially, but you'll undoubtedly benefit from it for a long time. You may also use complimentary packaging materials from some carriers. 
7. Charge The Shipping Costs To The Buyer 
You can further reduce shipping costs by charging the buyers for the service. Include all applicable fees in your estimate, such as those for signature confirmation, fuel surcharges, weekend delivery and so on before sending it to the customer.
In addition, you can provide customers with other shipping alternatives, such as expedited, next-day and standard delivery for varying costs.
You can also raise the price of your items to account for the delivery cost. Keep in mind that clients enjoy the notion of free delivery. It's possible that your buyers won't even notice the increase in price that you implemented. 
8. Use Online Payment To Reduce Shipping costs 
When you pay for your delivery online, you can save up to 16%. Moreover, you could get complimentary pick-up services. As an added bonus, shipping software could get you cheaper postage rates when you pay online.
You can print shipping labels and buy domestic and international postage, all from the comfort of your home. You won't need to make a personal trip to the post office anymore, which means you'll save time and money.
Conclusion
As a small business owner, one of your primary goals should be to minimise expenses. One method to achieve this is to explore various options for decreasing delivery costs.
Choose a hybrid carrier and try to bargain for a lower rate. Your package dimensions must also meet the standards of the transport company. The most efficient method for doing so is to utilise the carrier's original packaging.
Of course, you may charge your buyers for shipping so that you don't have to pay for it. You may do this by providing them with an accurate estimate of the charge or by raising the cost of your items.