ANAROCK's 2018 Consumer Sentiment Survey found 39% property seekers preferring affordable housing (priced <INR 40 lakh); this declined by 13% in 2022
Shrinking demand since 2018 has impacted new affordable housing supply in the top 7 cities; developers are focused on mid & premium housing priced b/w INR 40 lakh to INR 1.5 Cr
In 2018, supply share of affordable homes was highest at 40% of over 1.95 lakh units launched that year; in 2022, this dipped to just 20% of approx. 3.58 lakh launched units
Despite reduced supply, unsold affordable stock in the top 7 cities is significant – of total 6.30 lakh unsold units in top 7 cities as of 2022-end, affordable housing comprises 27%
To boost affordable housing demand, Budget 2023-24 must revise price bandwidths for affordable homes & align with market dynamics of cities; more buyers must avail benefits of lower (1%) GST without ITC & other govt. subsidies
Govt. must also push affordable rental housing scheme launched post pandemic.
Mumbai, 30 January 2023: India's residential real estate sector looks hopefully to Budget 2023-24 to boost the country's flagging affordable housing segment. The segment had revived after the government began to roll out incentives from 2015 and became 'respectable' with both buyers and developers. However, the pandemic seriously impacted the affordable housing segment, with both demand and supply shrinking to their lowest levels.
ANAROCK's Consumer Sentiment Survey finds that in 2022, demand for affordable homes has sunk precariously. In 2018, approx. 39% property seekers in the top 7 Indian cities were keen on affordable homes priced within INR 40 lakh. This demand shrunk to its lowest levels in 2022, with just 26% property seekers looking to buy in this budget segment.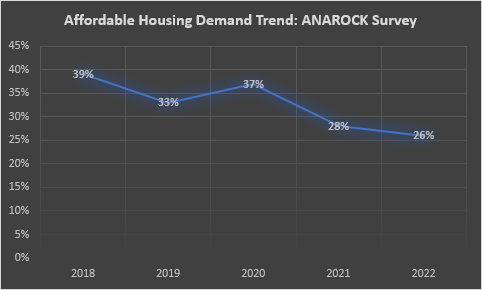 There is significant unsold affordable stock across the top 7 cities. Of approx. 6.30 lakh unsold units in the top 7 cities by 2022-end, affordable housing accounted for over 27%. Demand has remained low for this segment since the pandemic, and the government needs to revitalise it on a priority basis. The upcoming budget presents an opportunity to do so.
What Can the Budget Do?
"One possible way the Budget can intervene is by revising the price bandwidths for homes that qualify as affordable homes, as per the specific market dynamics of different cities," says Anuj Puri, Chairman – ANAROCK Group. "The size of units that qualify for various affordable housing benefits is currently 60 sq. m. on carpet area. While this is appropriate, the uniform price band of up to INR 45 lakh for affordable housing is not aligned with the market realities of most major cities."
INR 45 lakh or below is far too low in a city like Mumbai, where it should be increased to INR 85 lakh or more. In other major cities, the price band should be increased to INR 60-65 lakh. This would result in more homes qualifying as affordable housing, enabling many more homebuyers to avail benefits such as reduced GST at 1% without ITC, and other government subsidies.
"More tax sops for housing end-users and investors for affordable homes would also boost demand," says Puri. "The current tax rebate of INR 2 lakh on housing loan interest under Section 24 of the Income Tax Act must be increased to at least INR 5 lakh. This will add momentum to housing demand, particularly in the cost-sensitive affordable segment."
"Budget 2023-24 can also push the government's affordable rental housing scheme that was launched post the pandemic. Covid-19 put serious constraints on the lower income groups, causing many to step away from homebuying aspirations altogether. To add momentum to its Housing for All vision, the government can use the Budget to incentivize ARHCs (Affordable Rental Housing Complexes) which can fill the gap until homebuying capacity in the lower income groups improves."
To invite private participation in this initiative, the government had rolled out incentives such as use permission, 50% additional FAR/FSI, concessional loan at priority sector lending rate, and tax reliefs at par with affordable homes with a view to develop ARHCs on developer-owned vacant land for 25 years. However, the low yields of affordable rental housing were a major deterrent. Despite funding for such projects to be provided at concessional rates, most players find it unviable to develop ARHCs on already scarce land procured at steep prices in the major cities. The Budget is an opportunity to introduce more deal sweetening measures to finally get Affordable Rental Housing Complexes going in the country.
Affordable Housing – Declining Supply Share
Total New Supply across Top 7 Cities (Units)
Year
2018
2019
2020
2021
2022
Total Supply (Units)
1,95,300
2,36,560
1,27,960
2,36,700
3,57,650
% Share of Affordable Housing
40%
40%
30%
26%
20%
Source: ANAROCK Research
One clear indicator of affordable housing's declining fortunes is the significantly reduced supply. With demand for budget housing shrinking over the last few years, developers began launching more projects in the mid and premium segments instead. This caused the supply share of affordable homes to decline steadily and reach its lowest level in 2022.
As per ANAROCK Research, out of a total of 3.58 lakh units launched in the top 7 cities in 2022, affordable housing accounted for just 20%. If we consider that in 2018, this segment had a 40% share of approx. 1.95 lakh units launched that year, the plunge is stark.
The government's Housing for All scheme is squarely focused on affordable housing. It is imperative that Budget 2023-24 announces strong measures to revive this ailing segment.
See Also: