No. of PropTech startups increased to over 1,400 in 2022 from just 2 in 2016
Today, PropTech accounts for 6% of the total recognised startups in the country
While the housing sector accounts for 84% of the total under-construction real estate in the country, just 700-800 companies account for 13% of the total recognised PropTech startups
Indian PropTech startups at distinct phases, and 56% already successfully funded
For far too long, the real estate sector had stubbornly held on to age-old conventional models and practices of planning, management, construction, project execution, and sales. This may be due to the underlying risk considering the high asset value and the large quantum of investments required to explore new methods.
In India as well as globally, the sector was a chronic laggard in technology adoption – until 2020.
The global Covid-19 pandemic outbreak catalysed massive technological intervention across sectors and industries. While banking, insurance, travel, and e-commerce were already leaders in technology adoption, other sectors including real estate were forced to follow suit. Suddenly, there was an immediate need to create an environment that ensures continuity despite disruptions.
The real estate sector rapidly transformed the way it operated, flagging off a digital journey that laid open the immense scope of technological intervention and implementation. The need to increase efficiencies and ensure sustenance and rapid scalability in real estate opened wide the technology floodgates.
PropTech Startups
Today, PropTech has become a boon to every kind of real estate sector stakeholder from landlords to tenants and investors to brokers. Technological disruptions using various platforms and technologies have far-reaching impacts. According to Forbes, 95% of buyers engage on online platforms at the discovery stage of their home-buying journey, and 51% buy property online.
The number of PropTech startups in India has grown at an impressive CAGR of 200% since the government announced the Startup India Campaign in 2015 – to over 1,400 in 2022 from just 2 in 2016. Real estate-focused startups are serving various sub-segments of the real estate industry ranging from sales, construction, finance, and sustainability.
Among those that have attained unicorn status, real estate sector-focused startups are increasingly achieving this coveted milestone. Today, PropTech accounts for 6% of the total recognized startups in the country.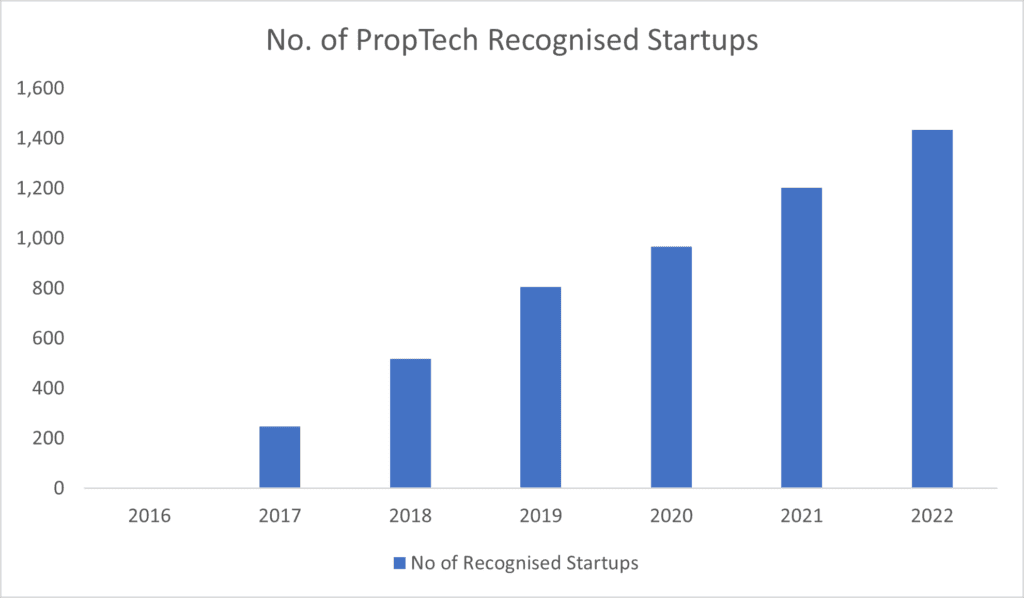 Residential real estate accounts for 84% of the total value of the under-construction real estate in the country. However, only 700-800 companies account for 13% of the total recognised PropTech startups focused on housing. There is obviously significant upside potential to be leveraged.
Today, PropTech startups in the country are at various phases of their lifecycles. While 30% are currently in their pre-seed stage, 56% have already been successful in raising funds from investors. Many others are currently in the validation stage, seeking to establish proof of their concept, and many of them are likely to progress to the fund-raising stage soon.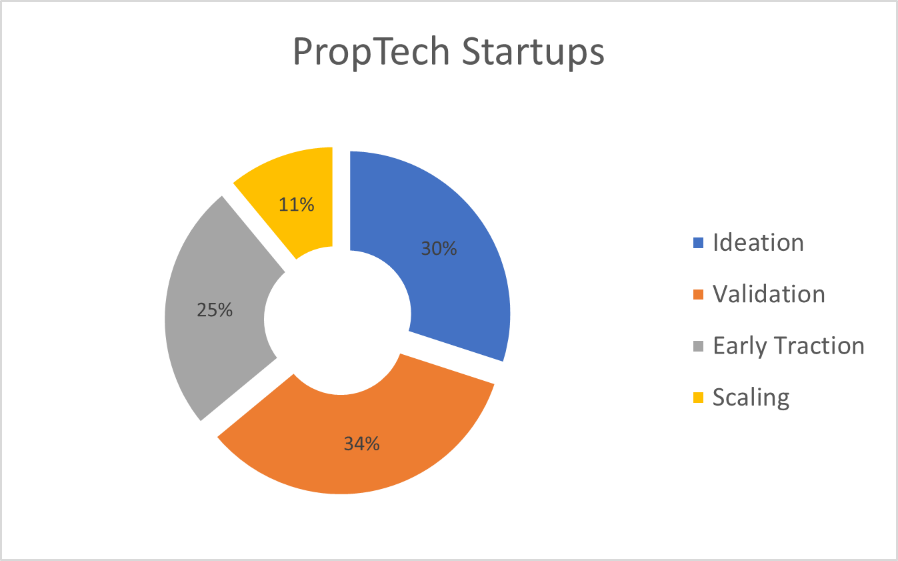 ConTech
ConTech or construction technology is all about finding innovative ways to build more with less. In India, construction firms had chronically underinvested in technology. Today, the leading players are finally open to using advanced technologies like construction automation, tech-driven sustainability, and prefabricated materials.
The need for cost-effective, efficient, and faster construction has enabled the use of innovative construction technologies. This is evident from the share of startups focusing on this segment – a massive 57%.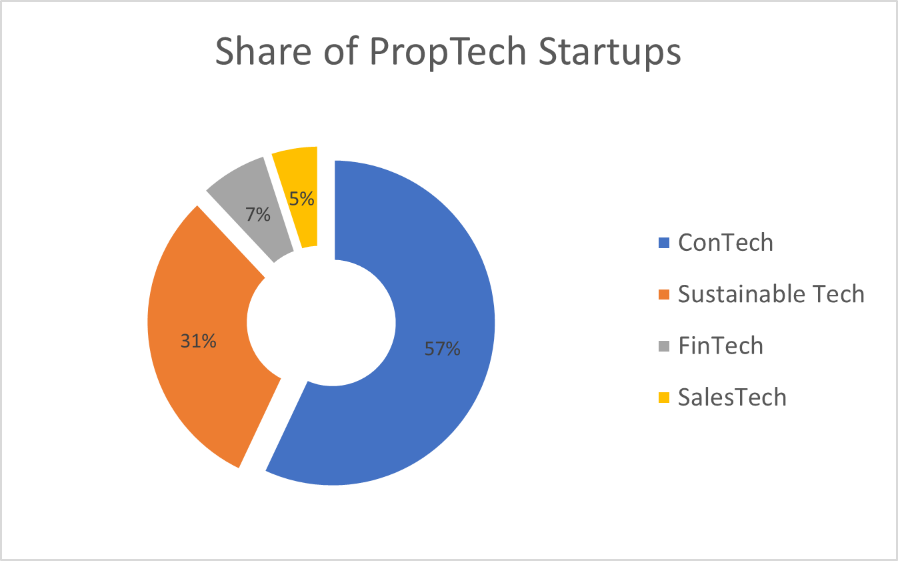 As PropTech gathers momentum, it will gain increasing acceptance – certainly, the decades-long state of inertia has been broken. As Indian real estate gears up to become a USD1 Tn industry by 2030, the prospects for this exciting offshoot of the technological revolution are more than promising.
Read Also: