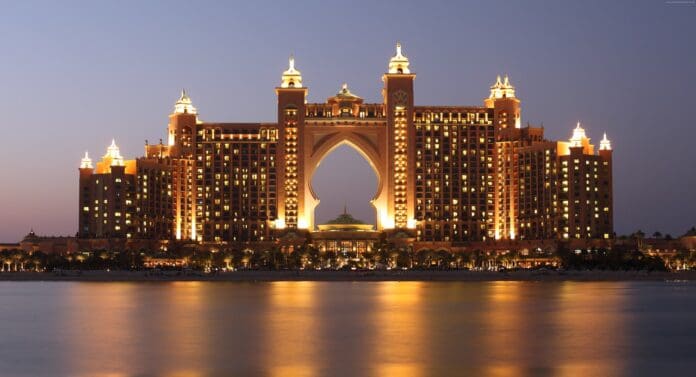 I think we can all agree that we all daydream about vacations in places like Miami, Dubai, and the Maldives sitting in the luxury hotels in the world at some point in our free time. You can't ignore certain places when you see their attractive images. Now, forget about your typical budget of $200 to $500 per night weekend getaways, for these places on this list, starting at USD 28,000 a night, could be the next escape from your regular routine!
Luxury begins here. In this list, we have compiled the top 10 luxury hotels in the world from around the world, with breathtaking city views and lavish underwater hotels, these pricey hotels have it all. So, if your budget isn't an issue and you're looking for luxury hotels around the world for your next luxury vacation, here is a list of the 10 most expensive luxury hotels in the world.
1. The Royal Suite – Burj Al-Arab
One of the most well-known and popular hotels in the world, the Burj Al-Arab, is at the top of the list of the most expensive but exquisite hotels in this world. This is the epitome of luxury in Arab.
Ambiance and cost
Royal suites at this hotel cost $28,000 per night. In this package, you get a 780 square-meter suite, the Royal Suite – Burj Al Arab. With 22-karat gold decorations, it is set over two floors. In addition to so many extraordinary things about this place, you have a private dining area and butler, a spa, and a private lounge. The hotel also has a large number of staff who are ready to assist you with anything you may need.
2. The Royal Suite – The Plaza
Next up, we have the place called "Royal Suite" in the Plaza in New York City. We have created the prestigious Royal Suite, which is a three-bedroom suite with a private elevator and views of Fifth Avenue and the legendary Pulitzer Fountain.
Ambiance and cost
For just USD 40,000, you can enjoy this luxurious hotel in New York for one night! There are many specialties at this hotel. As an example, we feature one, two, and three-bedroom suites with direct access from the elevator. An entrance gallery is available in this suite. During your stay, you will be entertained by a grand piano in the elegant living room. You will also be greeted by an exquisitely designed living room, equipped with the newest top-of-the-line amenities as well as luxuries.
3. The Hilltop Villa
If you get a chance to stay at the magnificent hilltop villa, you will say out loud "I'm on top of the world.". It is located at the highest point of Laucala Island and offers guests the experience of living "up on top."
Cost
Finding out about the Hilltop Villa through the internet confirms this place is tucked away in paradise, and there is no need to mention that people with enormous wealth are able to access it. You will be charged USD 45,000 per night for the stay at this place.
4. The Muraka Suite – The Conrad: Luxury Hotels in the World
There's no other undersea residence with a private seaplane launching platform than Muraka. By the jetty, this is all the way to the Hilton-owned Conrad Maldives Rangali Island resort. Luxury hotels in the Maldives need to be at the top of anyone's list of wishes if they are considering a luxurious vacation.
Uniqueness and cost
When it comes to natural views, the Maldives should be considered paradise. There is something special about Muraka, though. This is the world's first underwater hotel suite at the Conrad Hotel. You will be amazed to know it is the world's first underwater hotel suite. This is nothing more than a man-made paradise. For USD 50,000 per night, you can enjoy the stay here.
5. The Penthouse Suite – Hotel Martinez
An Art Deco inspired penthouse suite at Hotel Martinez. It was found in the 1930s along the French Riviera, whose colors made it look more beautiful and gigantic.
Cost and ambiance
It will cost you USD 53,000 per night to stay at this wonderful luxury property on the French Riviera. Cannes is home to the Hotel Martinez. A luxury resort on the Côte d'Azur, this is one of the most famous. If you spend a lot of money on this place, you'll get a 1000 square foot suite on the hotel's uppermost floor. From such an altitude, the world looks beautiful.
6. Ty Warner Penthouse – Four Seasons
Coming up next on the list the Ty Warner Penthouse at the Four Seasons Hotels in glamorous New York. Here, you can enjoy a panoramic 360-degree view of the city. You'll be blown away by the breathtaking views in Uptown, Downtown, and Midtown. This is a great place to go on a date. Luxury Hotels in the World are your castles in the clouds. New York's most expensive hotel is this one.
The Charm and the Cost
A one-night stay here will cost you USD60,000. With the huge heights, you are able to capture some awesome pictures to post on social media with the most exquisite views.
7. The Mark Penthouse – The Mark Hotel
Jacques Grange's magnificent penthouse, named the Mark penthouse, is more like a majestic and lovely residence that taken as the pinnacle of modern luxury that offers unparalleled comfort and service.
Cost and features
There are no larger hotel suite penthouses in the United States than that at the Mark hotels grand. Ten thousand square feet of this place devoted to public use. There is amazing scenery, royal amenities, as well as a delicious array of food at this place. There is a nightly charge of 75,000 USD. Here, you'll receive a great deal for your money. You are offered a spacious penthouse that extends over the hotel's top two floors, offering you an exquisite and luxurious experience.
8. The Royal Penthouse – Hotel President Wilson
The iconic hotel, Royal Penthouse – Hotel President Wilson, is located in Geneva's most contemporary address, overlooking Lake Geneva, and visiting one of the city's most beautiful parks and boutiques.
Location and cost
A luxury vacation in Switzerland had at The Royal Penthouse – Hotel President Wilson in Geneva if you visit Switzerland. A stay at this awesome luxury hotel in Switzerland will cost you USD 80,000 per night. The restaurant occupies the entire 8th floor of the hotel, giving the luxury a new identity.
9. Empathy Suite – The Palms
A new hotel room in Las Vegas, located at the Palms Casino Resort, has become the world's most expensive room.
Location and cost
In terms of price, the Empathy Suite at The Palms, located in Las Vegas, crosses USD100,000.
10. Lover's Deep – Luxury Submarine Hotel
Lover's Deep hotel offers the chance to live life underwater, and this dream comes true for those who stay here. It is here that you can see the underwater world. You can imagine having dinner with your loved one underwater in such an opulent location. Submarines required for travel to this location.
A dream vacation on its way
Lover's Deep Submarine offers all the luxurious amenities that you can imagine. Here, you'll experience everything that you dreamt of.
These are your top luxury hotels ranging from traditional brick and mortar buildings to underwater heavenly locations. Damn! We live in a marvelous and beautiful world!
Also Read: Top 10 Luxurious 7 Star Hotels in India