Spiritual leader Jagadish Vasudev, more popularly known as Sadhguru, and his non-profit organization, Isha Outreach, has spent approximately Rs. 1.35 Lakhs per day on Facebook and Instagram ads between April 27 and July 25.
Sadhguru and Isha Outreach are the largest advertisers on Meta out of India. They spent 1.20 crores for Facebook and Instagram ads.
Sadhguru Jaggi Vasudev has 8.5 million followers on Instagram, 5.2 million fans on Facebook, and 3.9 million followers on Twitter.
Sadhuguru's Isha Foundation offer many products that connect you with your spirituality such as clothes and organic products on their website.
Following Sadhguru on the largest advertisers, Koo spent almost ₹87 lakh on adverts on Meta in 90 days. Koo is a social platform that connects millions of people with each other. Koo was started lately in 2019, recently raised ₹79 crore from Caspier Venture Partner, Ashneer Grover and Ravi Modi Family Trust.
According to Pyrite, the third largest advertiser in India is Voot Select with advertising expenditures of ₹67 lakh.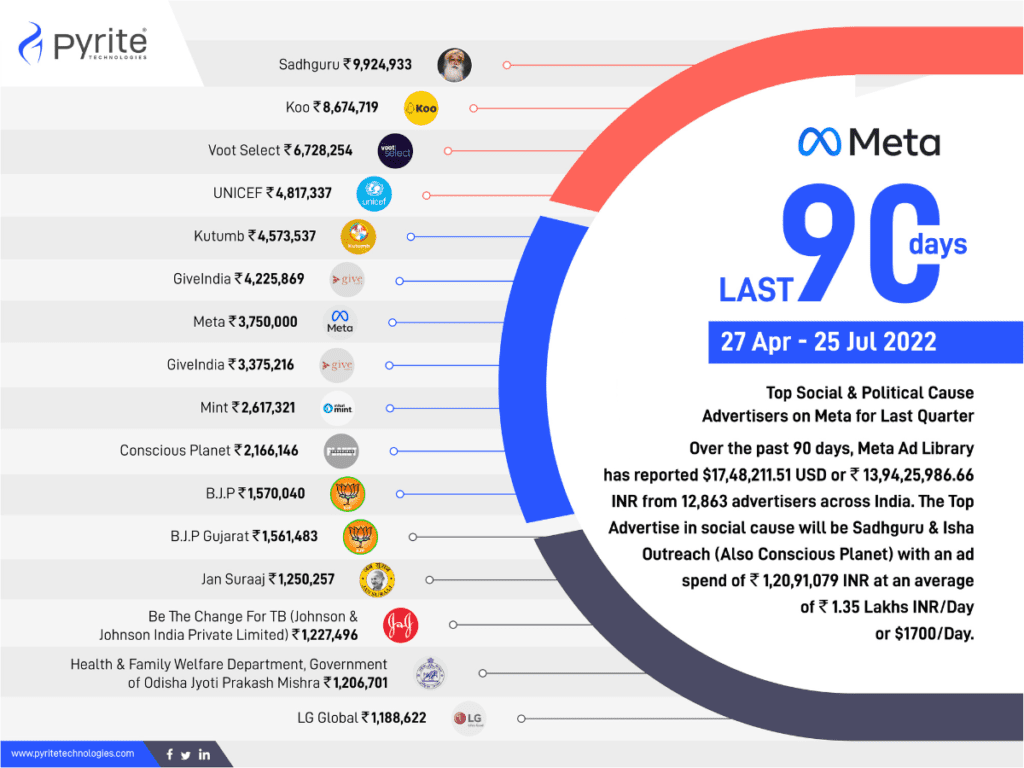 Voot Select is India's premier subscription-based streaming service.
The BJP and BJP Gujarat appeared on the list of the most active advertisers.
As per Indian advertising rules, not all brands have to declare their spend as they do not fall under the social causes category.
More than 12,863 advertisers from India published ads between April 27 and July 25. The company collected Rs 13.94 crores in advertising revenue during that time.
In July 2022, around 36.2% of the population in India was estimated to be on Facebook.
India is a top market for Facebook, because advertisers and users are increasing.
See Also: Social media companies face growing pressure to stop Political ads