From ongoing misinformation of political ads, social media companies face growing pressure to stop the political ads. The Twitter chief executive said on Wednesday, as social media platforms facing pressure to block attempts to steer elections with false information.
Jack Dorsey, CEO of Twitter Inc said in his statement that Internet advertising is a powerful and effective platform for commercial advertising. That brings significant risk to politics, where it can be used to influence votes to effects the lives of millions.
Jack said "A political message reach should be earned, not bought. when people decide to follow an account or retweet. Paying for reach removes that decision, forcing highly optimized and target and targeted political messages on people. we believe this decision should not be compromised by money."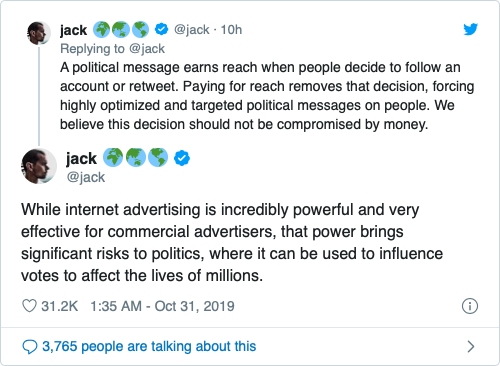 Facebook has also faced the problems of Russian propaganda false information on its platform that affect the 2016 US Presidential elections, which was won by Donald Trump.
Earlier this month, Facebook CEO Mark Zuckerberg has also changed its company policy, saying it didn't want to stifle political speech.
But as the nature of social media platforms, publishers and advertisers are still discussing politics originally on the platforms. Means it won't fully solve the problems of misinformation, says Jasmine Enberg, a senior analyst for research company eMarketer.
Related: Cyberbullying…Is Your Child Safe?