UGRO Capital Limited is data-tech lending platform which uses strong distribution reach and data-tech methodology to address small business credit gap in India. The company's term loan programmes are suitable for MSMEs, irrespective of specific requirements. It has a strong backing of marquee institutional investors (as the company has raised INR 900+ crore of equity capital in 2018 and INR 340 crore in 2023). The company targets to capture 1% market share in upcoming 3 years.
The company continues to work for mission to 'Solve the Unsolved'—$600 Bn small business credit need. It expects that problem of small businesses will be solved by developing strong expertise around core sectors of SMEs in India along with data centric, technology-enabled approach.
Financial performance of UGRO Capital Limited
UGRO Capital Limited has approved financial results for quarter and financial year ended 31st March 2023. The company continued its growth momentum in last and final quarter of FY23. It AUM came in at INR6,081 crore (as of Mar'23), exhibiting a rise of 105% from Mar'22. Total income of the company for 4Q23 came at INR217.2 crore (exhibiting 92% growth year-over-year and 15% growth quarter-over-quarter) and INR683.8 crore for FY23 (up 119% from FY22).
In 4Q23, it saw 131% growth in consolidated net profit to INR14.0 crore, showcasing a rise from INR6.1 crore in previous year. It was able to efficiently leverage co-lending partnerships, having off-book AUM at 40%, better than its FY23 guidance of 35%. The company has been able to collaborate with 10 co-lending partners, more than 65 lenders, 35 fintechs, and 1,200 GRO partners to offer data-backed customized finance solutions to more than 46,000 MSMEs across India.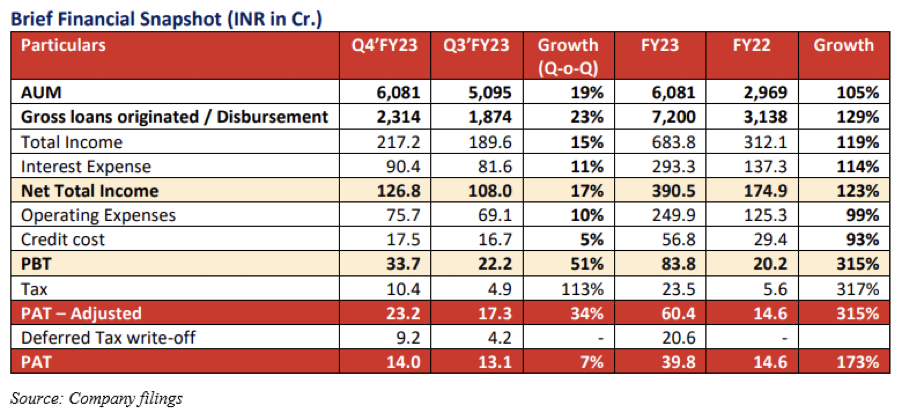 Over previous 4 years, the company was able to serve more than 48,000 customers in 4,000 different pin codes, analyzed more than 93,000 bank statements, 34,000 GST records, and was able to process more than 63,000 GRO Score logins. Despite significant challenges to lending industry, the company successfully built AUM of INR 6,000+ crore and with monthly net disbursement of over INR 500 crore. Its increasing off book AUM of 40% exhibits that its credit scoring model and underwriting framework continue to be accepted across banking industry.
During FY23, the company's total revenue came in at INR68,376.28 lakhs in comparison to INR31,211.21 lakhs in prior year. Profit before tax was INR8,382.84 lakhs versus INR2,017.78 lakhs for previous year. PAT was INR3,977.64 lakhs against INR1,455.06 lakhs in previous year. Strong AUM growth momentum continued in FY23. This growth stemmed from large distribution infrastructure (comprising 98 branches, more than 1,200 GRO partners, over 105 Anchors and original equipment manufacturers and more than 1,200 employees).
Industry analysis
Bank credit saw an increase of 15.4% against 9.7% in previous year because of large industries, primarily metals, petroleum, and chemical industries. Credit growth to infra sector decelerated because of fall in credit to telecom sector. MSMEs' credit growth remained strong because of Emergency Line Guarantee Scheme (ECLGS) which was extended till March 2023.
Services sector credit saw strong momentum in 2H23, stemming from flows to NBFCs, both housing finance companies and others NBFCs, with wholesale and retail trade considered under MSME category and simpler access to loans under Credit Guarantee Fund Trust for Micro and Small Enterprises (CGTMSE). However, credit to trade sector saw increased growth in 2H23. Retail loans were prime contributor to overall credit growth in FY23.
Fresh inflow of funds to support growth outlook
The company intends to raise INR341 crore with the combination of preferential allotment and qualified institutional placement (QIP). It should the company's 2nd capital expansion plan since inception. Board of UGRO Capital Limited approved preferential allotment of shares of INR240 crore to government-owned fund of Denmark IFU (Investeringsfonden for Udviklingslande).
The company also informed that it will raise INR101 crore. This raising will happen from the long-term shareholders such as insurance companies AIF, and some other institutions through QIP. It has entered into the definitive investment agreement with IFU. IFU plans to invest through its Danish Sustainable Development Goals Investment Fund K/S. The funds will be used for onward lending and should help the company strengthen its balance sheet.
In 4Q23 conference call, the company highlighted that, for FY24, it targets AUM, ROA and ROE of INR100 billion, ~3% and ~10%, respectively. Further, the company targets to achieve high double-digit ROE in FY25. It plans to add 20-25 micro enterprise branches in FY24. These branch additions were flat in FY23.
Future prospects for UGRO Capital Limited
In FY24, UGRO Capital Limited is expected to focus on improving its profitability. Over past couple years, it has been able to build formidable distribution strength and its cost-to-income ratio continued to remain high. This is because a large part of Opex was upfronted in initial years.
The company expects that its existing infrastructure should be enough to support growth targets for FY24 and it will sweat its existing installed capacity so that operational efficiency can be improved. It will continue to build on its "Lending as a service" through Co-lending model and has a target of 45%+ Off-book AUM Proportion.
The company has plans to leverage existing 75 GRO Micro branches to increase AUM mix of Micro loans. This will further help in improving asset mix towards high-yield products
UGRO Capital Limited has been successful in raising equity capital of INR 340.50 crores through mixture of Qualified Institutional Placement of INR100.50 crores and preferential allotment making up INR240 crores.
Risk factors
Access to financing in timely manner and that too at competitive costs seems to be challenging. This is particularly true for smaller and mid-sized NBFCs because of higher interest rates. Borrowing costs of the company and its access to debt capital markets are dependent on India's credit ratings. In case of any negative revisions to credit ratings for India and several other jurisdictions it operates in by global rating agencies, the company's ability to raise additional financing can be hampered.
Negative economic developments like higher fiscal or trade deficit, or default on national debt can impact investors' confidence and might lead to higher volatility in Indian securities markets. This can indirectly impact Indian economy in general.
Shareholding pattern of UGRO Capital Limited
Promoters of UGRO Capital Limited hold ~2.19% in the company by end of June 2023 while FIIs make up ~21.99% of total shareholding. There has been a significant increase in holdings of FIIs in June 2023 in comparison to March 2023.
Public shareholders make up ~69.02% of total shareholding at end of June 2023.
Investment rationale
Investors can consider going long on this stock given its promising business model and favourable industry dynamics.
Technology should play a critical role in taking financial services to next level of growth by supporting challenges that stem from India's vast geography, making physical footprints in smaller locations unviable. With higher smartphone penetration and faster data speeds, consumers continue to encourage digitization as they find it more convenient and easier to use.
Market share of NBFCs in overall systemic credit went up from ~16% in FY17 to ~18% in FY22. This is expected to compound at 11-12% over FY23-FY25.
UGRO Capital Limited has recently announced its second equity capital raise from renowned institutional investors. This capital raise is expected to further enhance the company's strong capital position and strengthen its balance sheet.
Read Also: