Ketosis is a diet with a high fat and moderate protein content that is very low in carbs. The diet recommends eating meats, dairy, eggs, fish, nuts, butter, oils, and non-starchy vegetables. It follows the paleo and Atkins diets as well as other grain-free, low-carb approaches.
When energy is obtained mainly from fat instead of carbohydrate, the body burns fat more efficiently. Sugar – the source of energy – is usually used by cells to create energy. When the body is more likely to burn fatty tissue than sugar, it will instead burn ketones (fat molecules). Ketosis is this metabolic state.
Diets aren't new. Historically, it has been used as a treatment for children with epilepsy whose seizures didn't respond to medication. A keto diet has been shown to reduce seizures, according to studies. In addition to treating autism and Alzheimer's disease, it may also cure Parkinson's disease, multiple sclerosis, traumatic brain injuries, and brain tumors.
Weight loss is the main benefit of keto. The diet is often used to help obese people lose weight and control their appetite. Diabetes type 2 patients may also benefit from it in terms of blood sugar control.
We've got recipes for anyone looking for a better way to cook or a new way to eat.
1. Low Carb Taco Night with Cheese Taco Shells
Tacos are already delicious, so it's hard to imagine how to improve them. Bloggers and creative friends Kat and Melinda at Home. Made. Interest. found one. Taco shell filled with cheese. You can fill these tacos with all the toppings you like – cheddar cheese substitutes for a tortilla in this recipe.
2. Loaded Cauliflower
As a carb substitute, cauliflower does pretty well. When cooked, it has rich buttery flavor and a comforting taste. If you are craving mashed potatoes or loaded potato skins, this low-carb food is ideal for you. It has everything savory, like bacon, butter, cheddar, chives, and sour cream!
3. Low Carb Sesame Chicken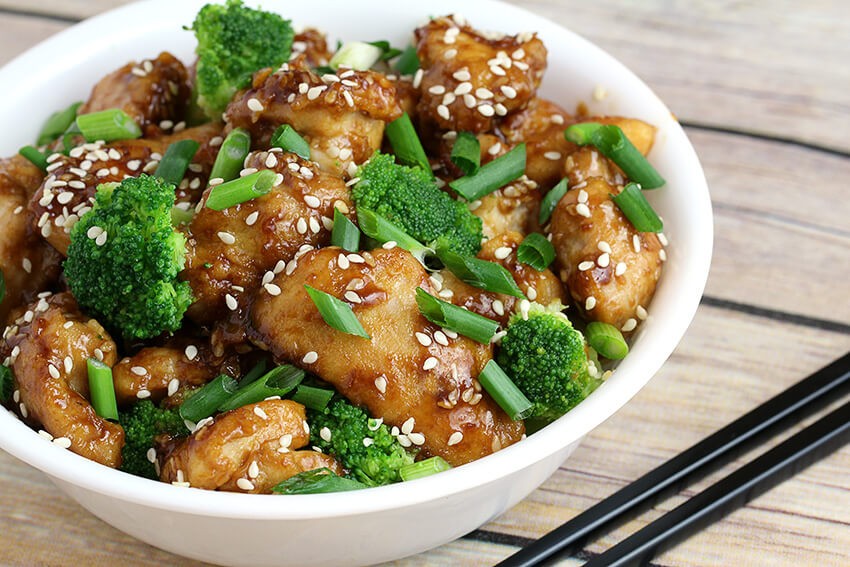 When served in Chinese carryout dishes, the chicken is often battered or breaded, making it not a good choice for low-carb dieters. Using arrowroot to make the sauce stick, recreates the popular dish, Tasteaholics with less carbs than a traditional version!
4. Thai BBQ Pork Salad: Keto Friendly Foods
Craig Clarke launched Ruled Me to spread healthy eating information, and his delicious salad shows that pulled pork doesn't have to be paired with a bun. A creamy Thai peanut sauce drizzling over romaine lettuce, red peppers, and cilantro tops shredded pulled pork.
5. Salmon Wasabi Burgers
Keep the buns off the burgers! The founder of Elana's Pantry, bestselling author Elana Amsterdam, offers salmon and wasabi burgers as other Asian-inspired Keto-Friendly foods. Ginger, cilantro, lime, and wasabi already pack a delicious punch, so the burgers cannot use a sauce or condiment.
6. Keto Chicken Pot Pie
Even though pot pies tend to be loaded with carbs, I Breathe I'm Hungry's chicken pot pie maintains its flaky crust and creamy center. For aroma and flavor, the sauce contains thyme and garlic.
7. Colombian-Style Zucchini Rellenos: Keto Friendly Foods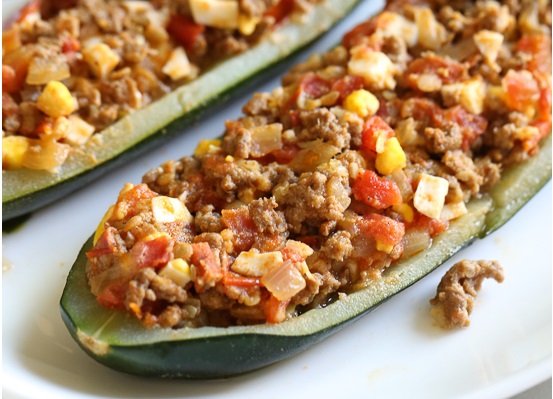 For low-carb dieters, stuffed zucchini is a popular option. It's slightly different from the usual version, however, as it's adapted from a Colombian recipe that's different from Keto-Friendly Foods blogger Gina Homolka strives to keep Keto-Friendly Foods healthy and delicious.endly Foods healthy and tasty. In addition to eating clean, whole foods, she practices portion control and moderation. Sprinkle on cheese, butter, or olive oil to increase the fat content of this dish.
8. Low Carb Mexican Cauliflower Rice
You must be able to prepare dishes you enjoy in order to maintain a low-carb lifestyle. If you're craving a stir fry or beans and rice, cauliflower makes a great rice substitute. Easy to make and full of flavor, this dish by Carolyn from All Day I Dream About Food is fast and easy to prepare.
9. Pesto Grilled Shrimp: Keto Friendly Foods
Are you tired of chicken and meat skewers? It's the perfect time of year to grill shrimp and add this pesto grilled shrimp recipe from Closet Cooking to your menu. Fresh basil pesto is the best! So the pesto marinates the shrimp, allowing it to absorb the flavor. Additionally, they require little cleanup after preparation.
10. Avocado Frittata with Cotija and Mozzarella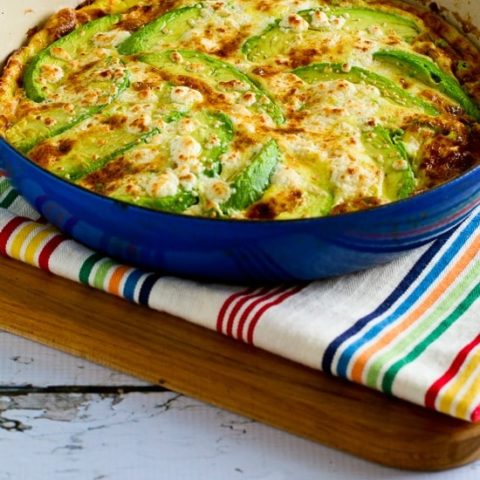 The recipe is low-carb, meatless, low-glycemic, low-carb, and gluten-free. In addition, there are avocados and two types of cheese! Kalyn Denny of Kalyn's Kitchen created this Keto-Friendly Foods. Her South Beach Diet allowed her to lose 40 pounds, and she became a food blogger by accident. The blog now features her creative Keto-Friendly Foods!
Also Read: The most famous Indian Foods people can't stop ordering in India