What are the Fun Places in Noida? A city that represents everything urban is New Okhla Industrial Development Authority, popularly known as Noida. Noida's cityscape is characterized by concrete jungles, express highways, hundreds of IT companies, sky-kissed buildings, flyways, and landscaped parks. Is there nothing to entice travelers here? Of course there is! Noida has many interesting places to visit, ranging from amusement parks to street markets to art galleries to sanctuaries to gaming zones to restaurants and pubs.
1. Worlds of Wonder (WOW)
The Worlds of Wonder amusement park is one of the most popular tourist attractions in Noida. A theme park with an incredible selection of rides and water slides, WOW is known as the world's largest theme park. There are a number of key attractions at the park, including Rockin Roller, Fast Forward, Chart Smashers, Big Beat, Download, and Hippti Hop. It also has a special area for young children, called La Fiesta. With an artificial lake, rain dance zone, go-kart track, and several eateries serving delicious food and drinks, WOW provides an entertaining and fun experience for the whole family.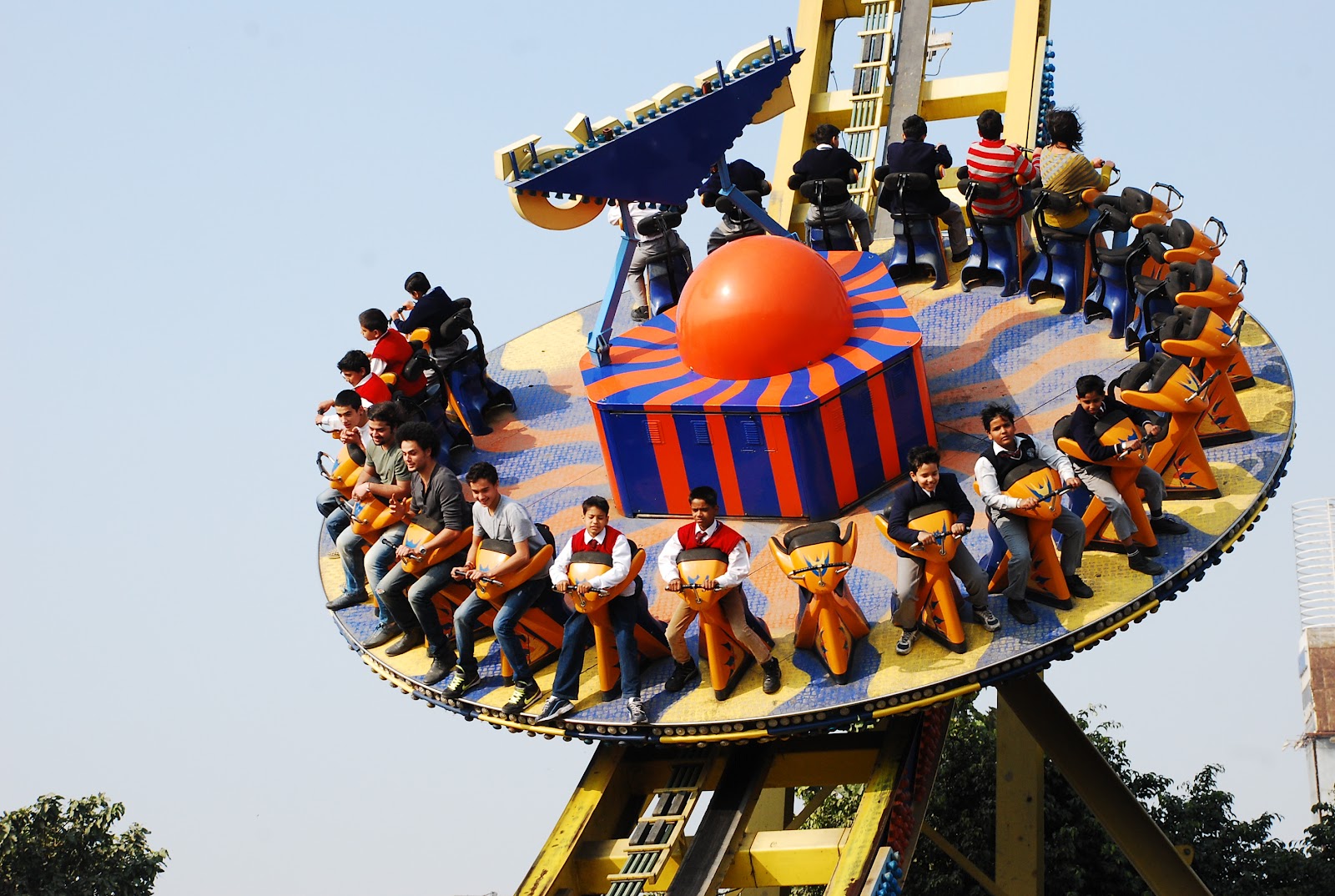 2. Snow World, Noida
Do you plan to visit Noida during the hot and humid summer months? Don't worry! It is possible to have a fun-filled time in the city and stay cool. The term 'cool' refers to places with temperatures as low as -10 degrees. Not convinced? With the Snow World, a snow-theme park in Noida, you can have an exciting time with your friends and family trying out skiing, ice skating, snow sledging, and many other snow-related activities.
3. Kidzania, Noida
Kidzania should definitely be on your itinerary if you are planning a trip to Noida with your kids. It's a mini learning city where your children can enjoy endless fun while also improving their skills. More than 100 activities are offered at the center to instill creativity, decision-making skills, and problem-solving abilities in young kids. Through a beautiful range of role-playing activities, the place also helps children learn about different careers. While Kidzania offers games and activities for adults as well, if you don't want to participate, you can sit back and enjoy the delightful foods at the food court while your kiddos learn, play, and have a blast.
4. The Grand Venice Mall, Noida
Noida wouldn't be Noida without some shopping, would it? Could you imagine shopping like you were in Italy in our city? It's the Grand Venice Mall, aka TGV mall, a marvelous shopping center that doubles as a tourist destination. Aside from replicas of Roman sculptures and gondola rides, the mall exudes an unmistakably Italian vibe. The mall offers over 250 stores for a satisfying shopping experience, while the gaming zone features VR games, bowling alleys, cricket lanes, dashing cars, and 7D theaters. The TGV mall has so much to offer that you won't feel bored for even a second.
5. Eggspectation
Our 24-hour cafe is open and has everything to satisfy your taste buds and jump-start your day. Grab a few eggs to try their egg dishes. Eggs are served in a wide variety of ways – omelettes, scrambles, frittatas, you name it and they have it.
6. Budhh International Circuit
In order to satisfy your thirst for adrenaline, Buddha International Circuit ensures that you become a proud witness to some of the best events in the country. Three Formula One Grand Prix rounds have been successfully held at India's only F1 circuit. The motor racing circuit is well suited to support high-tech racing of cars and motorcycles, which make the events more exciting and thrilling.
7. Smaaash, Noida
Are you looking for fun things to do in Noida? If so, then you should spend the day at Smaaash, one of the best gaming and entertainment centers in the city. There are VR and arcade games, food, music, indoor pitches, and a bowling alley, making it the perfect place to spend a day with friends and family. Smaaash is located at the DLF Mall of India, which gives you a chance to shop after you have finished gaming.
8. Botanic Garden of the Indian Republic, Noida
Imagine experiencing the diversity of regional flora right in the middle of Noida's concrete jungles? There are many things to do in Noida, but you should include a visit to the Botanic Garden of Indian Republic on your list. There is a herbarium, arboretum, and seed bank at this over 163 acre garden.
9. Okhla Bird Sanctuary, Noida
Okhla Bird Sanctuary covers approximately 3.5 square kilometers and is a paradise for birdwatchers and nature enthusiasts. There are more than 300 species of birds living here, including threatened, migratory, and resident birds. Additionally, there are a variety of herb species, shrubs, and mammals at the sanctuary.

10. Stupa 18 Gallery, Noida
A city like Noida may not seem like the first place you would associate with art and culture. But, it has places where you can be a connoisseur of art. The Supa 18 Gallery is one such place where you can admire the works of modern and contemporary artists as well as photographers. The gallery is open for you to walk through, enjoy the paintings, and if you feel like purchasing one or two, you can.
Final words
One thing is clear from this list of places to visit in Noida – the city has something for everyone. Consider planning a trip, taking a tour of Noida, and experiencing its many offerings.