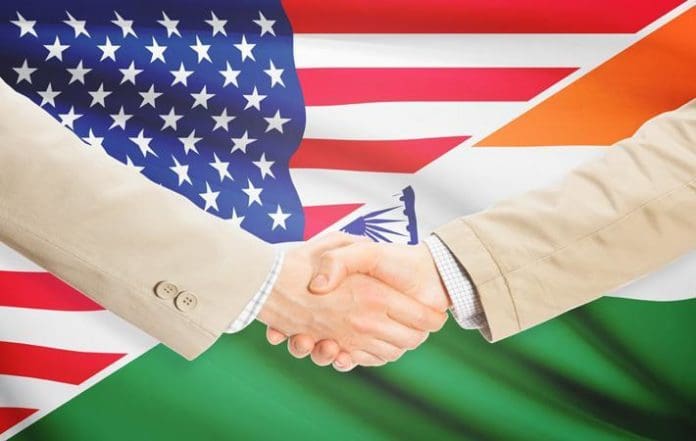 India is the world's largest independent democratic country with a population of 130 crores. And, it is the seventh-largest country in the world, with a total area of ​​3,287,263 square kilometers, extending from China, Nepal, and Bhutan to its north-east, Burma and Bangladesh to its east and Pakistan to its west.
India exported goods worth $ 322.8 billion worldwide in 2019, achieving an amount of $ 22.3% in FY 2018-19.
In which only Asian countries accounted for nearly half (47.08%) of exports, while 19.3% was sold to European countries. India shipped 18.8% of goods to North America.



A small percentage shipped to Africa (9.1%), Latin America (3%), and Oceania to Australia (1.1%).
Here are the top 5 trading partners of India who do the best number of trade (import-export).
1. United State of America 
The United States is one of India's top trading partners after overtaking China. India exported $ 54.2 billion of total merchandise to the US, which is about 16.8% of India's total exports. According to sources, India exports a total of the US $ 34,287.7 million worth of products in 2019 while India has imported the US $ 57.693.7 million from the US. Where the balance of trade is -US $ 23.406 million.
2. United Arab Emirates
The United Arab Emirates is the second-largest trading partner of India, importing about $ 29.7 billion (9.2%) of products in 2019. India's exports to the United Arab Emirates rose 7% to the US $ 30.13 billion, while UAE exports to India grew 37% to reach the US $ 29.78 billion. The United Arab Emirates is expected to become India's top trading partner.



3. China
Fy was India's top trading partner before 2018-19 but now the US has overtaken China. In 2019, China bought $ 17 billion worth of goods from India. The total deal for India-China trade in 2019 is $ 56.77 billion which is 3% less than the 2018 deal.
4. Hong Kong
India exports to Hong Kong $11.5 billion (3.5%) in the last fiscal year which was $14.6 billion in 2018. This decline was estimated in the gems and jewelry industry which was a global phenomenon, according to HKTDC. Whereas imports from Hong Kong to India increased by 2.2% in Apri-June 2019 period to 5.7 billion from $5.2 billion in the comparable months last year.
5. Singapore
Singapore is also one of the top trading partners of India. In the last financial year, India exported about $10.7 billion (3.3%) of worths goods in Singapore. And, India imports from Singapore was US$14.89 Billion during 2019, according to the United Nations COMTRADE database on international trade.
They are one of the top 5 trading partners of India, which accounts for about 39% of the total value of India's trade deal.
And, the major export companies are Reliance Industries (oil, gas), Tata Motors (cars, trucks), Indian Oil (oil, gas), Coal India, ITC (tobacco), Tata Steel, etc.
Related: Top 10 Indian Brands That are Giving a Tough Competition to Foreign Brands