The reality show Shark Tank, on which entrepreneurs pitch their most promising ideas to prospective investors. certainly has a fair share of innovation to offer. Thousands of entrepreneurs have given engaging demonstrations and presented "sharks" with investment suggestions in an effort to get their businesses off the ground-and many of them have succeeded. Here are the 10 most lucrative biggest Shark Tank Deal ever made. We'll find out what the sharks decided to invest in.
1. Zipz Wine
Kevin O'Leary was determined to avoid making the same mistake a third time, after losing out on a similar "wine in a cup" idea not once, but twice. After Zipz Wines sought $2.5 million for 10% of their single serve packaged wines, Kevin O'Leary quickly responded with exactly what Andrew McMurray wanted – a $25 million valuation.
2. Lovepop
Shark Tank first featured "Lovepop" in Season 7, Episode 11, a Christmas special. In addition to impressing Kevin O'Leary with their selection of pop-up greeting cards, architecture students Wombi Rose and John Wise managed to land a deal with the notoriously demanding firm.
3. Breathometer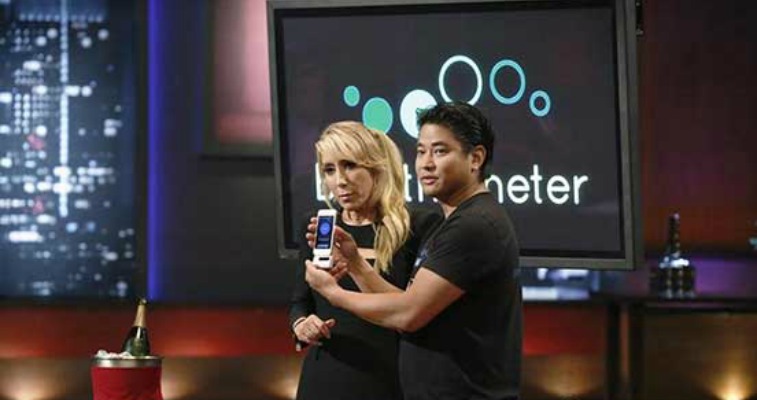 As the first entrepreneur to win a $1 million deal, Charles Michael Yim became the first to win the "Shark Tank Sweep" and partner with all five sharks. Charles' presentation was followed by a discussion in which all sharks were encouraged to invest and work together, avoiding a bidding war and making a sweet deal. Users could use the breathalyzer to determine. Whether they should drive or call a cab using a smartphone with Bluetooth or the audio jack.
4. BeatBox Beverages
BeatBox Beverages took a look at existing products and saw the potential for something much more fun: a colorful, tasty cocktail made with strong wine, packaged like a boombox, in a festive package. He said they hoped the liquor would become "the Red Bull of the alcohol industry." Justin Fenchel said they were optimistic about the product.
5. Scrub Daddy
It's a reusable super sponge shaped like a smiley face that gets firm in cold water and soft in warm water. The product has also been tested to remove debris and resist odors for up to two months–it's ergonomic design makes it easy to clean both sides of utensils at once. That bit is sharked by Lori Greiner ($200,000 for 25%). Founder Aaron Krause was ready when he appeared on Shark Tank, as he is quoted saying, "I learned that if you're not prepared, you're being baited." Sales: $209 million – before Shark Tank, the company had $100,000 in sales.
6. Squatty Potty
Squatty Potty a stool designed by Bobby Edwards for use in the bathroom to alleviate constipation. A pitch by the company's creator on Season 6, Episode 9 of the series quickly noticed by Lori Greiner, who purchased a 10% stake in the firm for $350,000.
That is certainly one of the investment decisions she is most proud of, since the company reported $164 million in sales.
7. Rugged Events
Rugged Events offers outdoor obstacle courses, also known as Rugged Races and Mud Runs, to challenge those who are looking for more excitement than your average marathon or track event. There are fire pits, mud pits, water slides, and walls to climb. Rugged Events became one of the largest endurance events companies in the United States following the Shark Tank deal. In the years that followed, Mark Cuban sold his shares of Rugged Events to GateHouse Media to turn a tidy profit.
8. Bombas
In addition to comfort socks and more recently T-shirts, the company also donates an item to organizations that help the homeless, having donated over 40 million items to over 2,500 community organizations to date. This bit belongs to Daymond John, the founder of global hip-hop fashion brand FUBU ($200k for 17% stake). As a result of discovering that socks were the most needed item at homeless shelters. Bombas co-founders David Heath and Randy Goldberg created the company, with sales reaching $225 million over the last 10 years.
9. Trunkster
The Tank doesn't see many companies come into the Tank and get exactly what they requested, but Trunkster got exactly what they asked for. After getting the valuation of $28 million that they came looking for on Shark Tank Season 7 Episode 10. Gaston Blanchet and Jesse Potash are going to have to pay it back within 2 years. In the end, Trunkster was a flop for Mark and Lori as well as all parties involved. Trunkster shut down in 2019 as a result of their withdrawal from the deal.
10. Tipsy Elves
A company devoted to selling only ugly Christmas sweaters. It was only a matter of time when ugly sweaters have become a time-honored hallmark of Christmas festivities. Tipsy Elves is a game developed by Evan Mendelsohn and Nicklaus Morton.
As a result of watching the duo's irreverent yet business-minded presentation, Robert Herjavec so intrigued by the idea that he offered them $100,000 in exchange for a 10% stake in the company, a deal they gladly accepted. Since the company aired its pretty well-received episode, they have made over $125 million in sales.
The Bottom Line
On the Shark Tank stage, there have been many great ideas as well as some duds. There is still room for new ideas in the list of the company's most successful products. As the Shark Tank showcases entrepreneurs and products to millions of viewers and attracts investment from sharks. There is no doubt that many successful businesses will be launched.
Also Read: Ultimate Guide to Quote to Cash: A small business guide