Delhi, Aug 28: In the 7th National Community Radio Seminar, organised by Ministry of Information and Broadcasting, India, Salaam Namaste Community Radio [A Unit of IMS NOIDA ] won the National Award in Thematic Category for their initiative for Women Entrepreneurship titled "Salaam Shakti"
There were a total of 30 Awards presented for the year 2018 and 2019. Station head Barsha Chabaria received the award from Honourable Minister Mr. Prakash Javadekar, Ministry of Information and Broadcasting, & Minister Environment, Forest and Climate Change, India .


Salaam Shakti is a Radio Program brings such women on board who work from their home on a small scale and are trying to shape their business or work skills. Such women many a times do not get the deserved leverage they are meant for.
Here not only Radio acts as a platform to showcase their skills but also to popularise them and also connect them with new clientele ů; Thus effortising to bring in a new economic identity for skillful women, This Radio Program intends to empower women who are home based and do creative work from home.
The motto is to give a platform to their work which they do entirely being home based, promote through the medium of Radio, add value to their clientel and have more people know about their creativity thus empowering them with their identity.
Salaam Shakti shall also brings in legal know how for any sort of business of any scale and knowledge of women rights and all what should interest all women.


All women who were a part of the program share their inside stories, challenges, their winning formulas about their work and also share how listners can get in touch with them.
Free air time is given to such women to promote their work. Helping them to create a brand name, Radio Volunteers also promote their work in residential areas and market places.
At regular intervals trainings and workshops are organized to train and shape their skills ů In seminars and meetings Shakties are made aware of and given word to word knowledge about Social media platforms and the power of digitisation to make them learn – How they can bring their work on board and Bring in their entrepreneurship with real economic value.
The Radio station also organizes Fairs and Shakti Haats to bring them to exhibit their work and gain direct selling.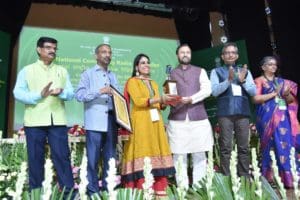 Barsha Chabaria , Station head, Salaam Namaste shares that this award is dedicated to all Shakti who are a part of Salaam Shakti and the initiative will keep on effortising to bring in the slient art Women do at home and are unheard and unseen.


It brings women from all backgrounds, a dabba seller or a Woman, snacks provider at a tea stall or women doing best out waste, basically an initaive to cultivate their identity and making them go ahead towards Women Empowerment.
Related: Govt to announce two big steps to boost industry.