While the burden of rising fuel has led to political posturing and threats of strikes by transport agencies across the country you would be surprised to know that there are price disparities in different states. To understand why oil price in India is higher than crude oil price increases in world markets, one would have to look deeper into the complex web of taxes, currency exchange rates, and crude import system. While depreciation of Indian rupee against the dollar and rising crude oil prices have led to a rise in fuel prices, the additional government taxes have added more fuel to the fire. According to a recent report, the rise in fuel prices is also dependent on another key factor which is – the way how fuel is priced in India. 
Instead of importing refined petroleum or diesel, India imports crude oil which is cheaper and sells it to general public and industries after refining it. But the price that is paid by you is based on import parity price, ie a price that one would have to pay if India was importing refined petrol and diesel. So you end up paying a high price and refining firms along with government make money as international crude prices go up. Confused? Most average Indians are too so let us explain some more.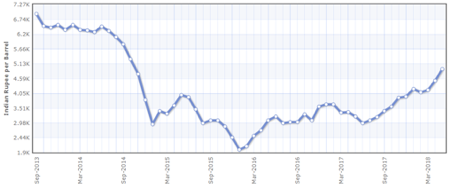 Why oil price in India is high when India exports more oil than it imports
India's exports more refined oil products like diesel and petrol than it imports and in 2017-18 its total crude imports amounted to Rs.744 million while exports were at Rs. 23858 million. Oil refineries both private and state-owned that refine this crude to make petrol, diesel, and other by-products pay Refinery Gate Price or RGP that is based on current trade parity price (TPP). This trade parity price is a weighted average of import parity price (IPP) and export parity price. Import parity price is the actual price that importers would have to pay if they imported refined petrol and diesel while export parity price (EPP) is what exporters would get if they exported refined fuel prices. In the TPP calculation, IPP has a weight of 80 percent while EPP has a weight of only 20 percent. 
A contribution of "Ad Valorem" Tax to profits
Customs duty on crude oil is based on a percentage of the basic value of imported price which goes up in absolute terms when the basic price per barrel increases. Due to this method of calculating the price to be paid to refiners, they get a windfall every-time there is an increase in international oil prices. This is why while the average price of crude oil purchased by India went up from $46 per barrel to $48 barrel, profits of Reliance Industries and Indian Oil zoomed up. While the profits after tax of Reliance Industries went from Rs.11242 crores in 2015-16 to Rs. 21346 crores in 2017-18, Indian Oil's profits went from Rs. 22426 crores to Rs. 33612 crores in 2017-18. 
How the government gained during this increase
The government also is responsible for this rise of oil price in India through customs duty and excise duty which was increased nine times within a short gap of two years between 2014 and 2016 and reduced only once in 2017. While diesel rose from 2.96 percent to 11.33 percent during this period, the duty on petrol increased from a low of 2.7 percent to 9.48%. The increase in oil price in India has helped to fill up government coffers in three ways. Firstly it earned by higher taxes on higher profits of refineries and secondly it earned high dividend as state-owned refineries made profits. Thirdly the high dividend given by public and private refineries to its investors brought higher income taxes. 
Why the situation is likely to continue
Crude pricing issue was examined under C Rangarajan Committee during 2006 after removal of cost-plus formula and deregulation of petrol and diesel prices in an attempt to align domestic prices to international ones. As India imports around 80 percent of its raw crude export parity would not be profitable so an 80:20 trade parity pricing system was implemented as per the Rangarajan Committee's recommendations.