Byju founder Ravindran could be the future of education for teenagers in India. His vision to pass the teenager of 11th and 12th in his examination. He offers 11th and 12th exam tutorials on his online Edtech tutoring app.
His journey began in 2006, when he started an online education technology business. From the outset he offers students exam preparation classes, and Byju has now become a rage among the student across India, claiming 35 million for the Mathematics and Science tuition app.


Byju received funding in July from a group of investors involved in Qatar's sovereign wealth fund, its current value is $ 5.5 billion — and Ravendran holds a 26% stake in the company.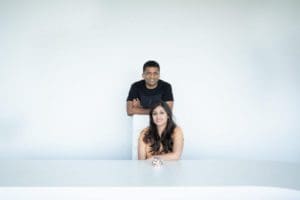 Ravindran said "this is not a business I started as a business". His new plan to use his funding to expand his $ 200 million sales company in Australia, the UK and the US. It is a passion that ended and became a business.


Ravindran is 38 years old. After completing his mechanical engineering degree in Kerala, India, he got a job at a Singapore-based company in 2001 as a globotrotting engineer at a shipping company. He helped his friends prepare for the ultra-competitive entrance exams for elite business schools in India when they travel back home during trips. Just for fun, he took the exam twice himself and achieved 1% rank each time.
Ravindran quit his job in 2005 and moved back to India and started full-time school classes. With 6 months, he had 1,200 students. He started traveling to 9 cities and by the end of 2009 he started broadcasting classes via satellite. At that time he realized that the students were struggling with mathematics and science and to help him, Ravindran started an online app 'Think and Learn', which is the parent company of Byju.


Ratan Pai said that the first thing we came to know about Byju is that he was passionate about teaching, he is a billionaire doctor of education and healthcare of Manipal Group. He said that when he asked for $ 8 million from me, 'I almost fell from my chair.' I like their confidence. And, he became one of its first two investors in 2012, which currently holds a 1% stake in Byju.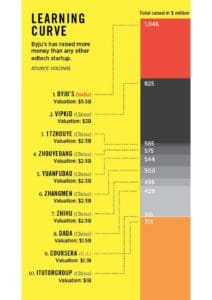 Byju has released its first app in 2015, which is a math and science tutor for 6th and 12th graders. Byju's app not only provides lessons, but helps the student to understand whether they understand the concept or not. And, based on their response it either takes students to the next level or goes back to basics. The feature appeals to "this is what teachers can never do" said Ravendran.


The app was downloaded two million times after its launch in three months. Today's Biju claims 35 million students across India using the app, and 2.4 million of them paid between $150 to $200 for an annual membership. The annual turnover is $200 million, still lower than $ 3.9 billion in Benesse Holdings of Japan, Asia's largest listed education company. But it still earned $2 million in the last year and is growing rapidly.
Biju's focus towards smaller cities and revenue is expected to more than double to $ 440 million for March next year.
Source by Forbes.com, Contributor Anu Raghunathan. 
Related: Future of Education- What is in store!